Brooklyn Nets vs Boston Celtics Live Stream Free: Watch NBA Basketball Online (7.30PM ET)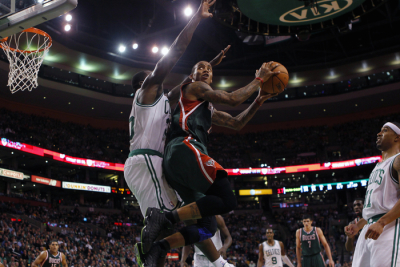 Brooklyn Nets vs Boston Celtics takes place on Wednesday night with the Nets looking to extend their winning streak to four games. The game will tip off at 7.30 p.m. ET and can be watched online through free live stream (details below).
The Nets managed to scrape through a tight win against the New York Knicks in their last game, and that result will have delighted Nets' fans and players more than any other victory this season. Especially given the Knicks' great start to the season the Nets will have been even more happy to have served their local rivals a rare defeat.
A confident Nets team will now face off against the Boston Celtics on the road – a team which themselves are attempting to extend their own wining streak to three straight games. The Celtics will also be high on confidence having defeated the Oklahoma City Thunder on Nov. 23 by a score of 108-100.
The Nets' win recently puts them level with the New York Knicks for first place in the Atlantic Division. However, despite being 9-4 overall, the Nets are just 2-3 on the road, and with the Celtics also playing some great basketball they could be slight favorites to win this match up.
The Nets will have seen their poor on the road record and will know that is something they must fix quickly if they are to make a run for the postseason calendar. If they continue to register under .500 on the road it will seriously undermine their playoff push.
This game will be intriguing as it pits a very youthful Nets lineup against an experienced Celtics team. Where as the Nets have a team full of youth and energy, the Celtics have some great players such as Paul Pierce and Kevin Garnett. However, they are both in their mid-thirties and are slowing down somewhat. Already this season these teams have faced off once, with the youthful Nets coming out on top when they met at the Barclays Center on Nov. 15.
Brooklyn Nets vs Boston Celtics tips off at 7.30 p.m. ET and can be watched online through free live stream by clicking here.