Chicago Bears vs Minnesota Vikings Live Stream Free: Watch Online NFL Football (1PM ET)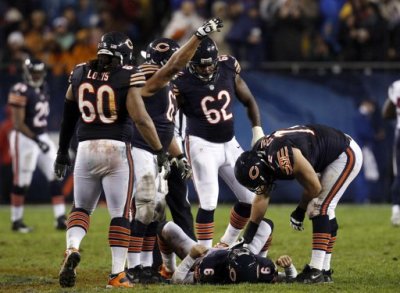 The Chicago Bears will play the Minnesota Vikings on Sunday in an intriguing all-NFC North affair. The Bears are currently fighting it out with the revived Green Bay Packers for the divisional title and the Vikings will likely have a big say in who comes out on top. The game is scheduled to start at 1 p.m. ET and can be watched online through free live stream (link provided below).
The NFC North has been touted by some pundits as the best division of the NFL this season, and even though it looks likely to be a two horse race between the Bears and Packers, the Vikings are just two games out from the two teams, meaning if Minnesota manage to go on a run to close out the season they are also in with a shout.
The Packers and the Bears are tied for first place with records of 8-4. The Bears have been leading, but they have stumbled in recent weeks, and that drop of form combined with the Packers' revival has seen things become interesting in the NFC North.
The Vikings will also not lay down, and although they lie in third place right now they are knocking at the door with a .500 record of 6-6. A win today would leave them just a game out from the Bears – so they are not to be written off lightly. A loss today for the Vikings, however, would probably put to bed any further dreams of an unlikely push for the division title, although they would still be in with a shout for the playoffs.
The Minnesota team is distinctly younger and more inexperienced that most NFL teams and that's what makes them more unpredictable and exciting. It is also what makes what they've achieved this season even more impressive.
The Vikings are 5-1 in Minnesota, and will relish the chance to bring the Bears on the road to see if they can compete with one of the NFL's best teams. To add more intrigue into the mix, the Vikings will be able to pit Adrian Peterson against a Bears' defense missing Brian Urlacher.
This game is not one to be missed. Chicago Bears vs Minnesota Vikings is scheduled to start at 1 p.m. ET and can be watched online through free live stream by clicking here.