Chrissy Teigen, John Legend Photobombed by Neil Patrick Harris at Grammys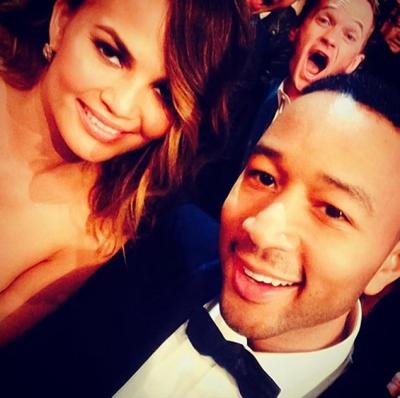 Chrissy Teigen and her husband John Legend are the latest celebrities to fall victim to "photobombing" during Sunday night's Grammy Awards.
The couple were posing for a "selfie," a self-taken photo, when Neil Patrick Harris jumped into the shot, making a face in the background.
"One can only be so lucky to get a nph photobomb," Teigen wrote in the photo which she later posted to Instagram.
The "How I Met Your Mother" star was seated behind Teigen and Legend during the annual Grammy Awards in Los Angeles when he snuck into their photo. Legend later performed his hit song "All Of Me," which he said was inspired by his wife.
Teigen and Legend married four months ago at a scenic villa in Lake Como, Italy after having dated since 2007 and getting engaged in 2011.
"I'm excited, it's been great so far," Legend said of his newlywed status while on CBS "This Morning."
"I've been with Chrissy for a long time, and knew that I wanted to be with her for the rest of my life and wanted to have kids with her and all of that, and I really didn't have any fear," he added. "Once I decided to do it, I decided lets go for it."
Meanwhile, Teigen proceeded to tweet and post photos throughout the entire Grammys ceremony on Sunday night, including several other photos taken from the red carpet, during performances and of award winners.
"Blurred lines will never not excite me," the frequent Twitter user wrote during Robin Thicke's performance of the hit song.
"I duno what's happening right now," Teigen later added. "Lol I am the worst dancer ever and now a million people saw. I legit never dance. I was the footloose mayor."
Teigen also posted about her encounter with Grammy nominee and performer Taylor Swift.
"Just ran into taylor swift so effing sweet that I hate myself," she tweeted. "Looks absolutely gorgeous."