Christopher Slate's McDonalds Attack After Receiving Wrong Order (VIDEO)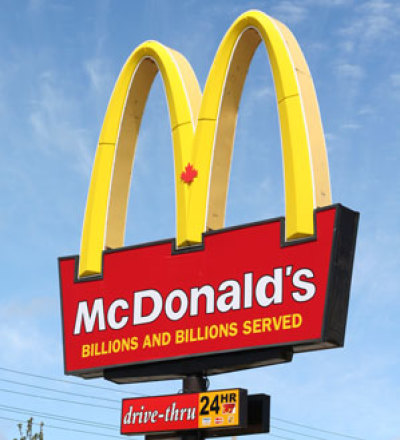 Two McDonald's customers retaliated Sunday morning, after receiving poor service and "messed up" hamburgers.
Chris Slate, 21, and Sean Mosey, 23, were not all that satisfied with the order they had received at a Murfreesboro, Tennessee McDonald's Saturday. While not too angry about the incident, the two men returned to the restaurant to dispute their order. However, the response the two men received shocked them as the manager cussed them out.
"We got cussed out and told to get the F out of their line," Slate told WTVF.
Infuriated the two men developed a plan to go home, get drunk, and return in order to vandalize the restaurant.
"We were ticked. I mean, ticked is an understatement. We hung out and drank more and, everything went down," Slate said. "Our stupid plan got more stupid in a half second."
In a drunken state, the men followed through with their plan and returned to the Tennessee McDonalds where Slate proceeded by throwing a brick through the front window. Mosey, in an even more intoxicated state than his comrade, picked up a piece of concrete and threw it through the side window of the drive through, leaving the manager with an injured leg.
As police arrived Mosey tripped and was immediately caught, while Slate was able to drive away. Police later arrested Slate at his home. Mosey required 60 stitches.
"I am 110 percent dumbfounded, not only of what happened, but the fact that I let myself become a part of it. And I know that Sean (feels) it too," Slate told WTVF.
Slate, now remorseful over his actions, has stated that he will give up drinking and consider alcohol rehab according to Mail Online.
"Honestly, I wanted to make a public apology to the McDonald's and to the City of Murfreesboro. I mean, our mistakes have caused a lot of grief for them," Slate said.