Cleveland Cavs' LeBron James Latest News: NBA Superstar Explains Why He is Endorsing Hillary Clinton
LeBron joins the list of esteemed individuals from film, TV and the music industry voting for Clinton like Katy Perry, Beyonce, George Clooney, Cher, Ariana Grande, Kanye and Kim Kardashian West, and Robert DeNiro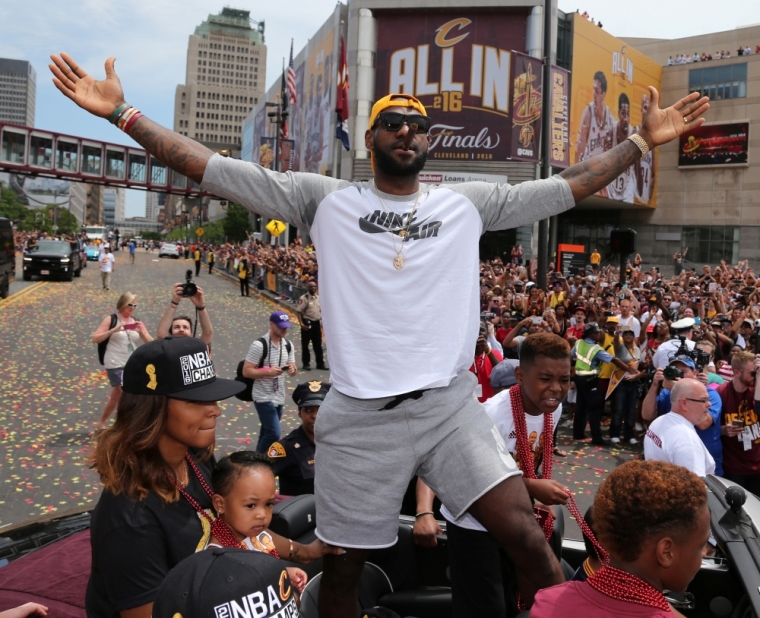 There is something intriguing about the state of Ohio in relation to the US presidential elections. The state's vote concurs with the result of the national elections more often than any other state in the country.
Win the Ohio state and more than 90 percent of the time, the candidate is assured of the presidency. And, this is why the swing state with its 18 electoral votes is nothing to sneeze at.
Just recently, one of Ohio's most popular and beloved figures in LeBron James endorsed Hillary Clinton for the White House seat. And, this could help bolster the Democrat's bid to win the state.
"There's still a lot of work to be done in Akron, Northeast Ohio, and all across our great country," the Cavs superstar wrote in an op-ed published on Business Insider. "We need a president who understands our community and will build on the legacy of President Obama. So let's register to vote, show up to the polls, and vote for Hillary Clinton."
LeBron James' Reasons for Choosing Clinton Over Trump
The NBA star gave his support to Clinton because he believes that she's the best person to continue the legacy of his friend President Barack Obama. He thinks that Clinton shares the same advocacy for children, particularly on education.
He also cited the widespread violence among the African-American community. And, while he admitted that he is not the most capable person when it comes to doing something to help end violence, he understands that there is the need for a leader who stands for unity and not divisiveness.
Clinton, for him, brings across a message of hope and unity. Trump has been regarded by many as a polarizing figure in US politics, especially with his tough stance against migrants.
Celebrities Who Endorse Clinton and Trump
LeBron joins the list of esteemed individuals from film, TV and the music industry voting for Clinton like Katy Perry, Beyonce, Eva Longoria, George Clooney, Cher, Mary J Blige, Ariana Grande, Kanye and Kim Kardashian West, Robert DeNiro, Dustin Hoffman, Matt Damon, and Drew Barrymore.
Ellen DeGeneres, Lady Gaga, Martha Stewart, Tom Hanks, Britney Spears, Steven Spielberg, Jennifer Lopez, Leonardo DiCaprio, Ben Affleck, Richard Gere, Elton John, and Reese Witherspoon have all expressed their support for Clinton one way or another.
The Trump Truck is loaded with celebrity supporters, as well. Some of the big names who have voiced out their support for the GOP candidate include Kid Rock, Mike Tyson, Azealia Banks, Dennis Rodman, Jon Voight, Kirstie Alley, Aaron Carter, Jesse James, Stephen Baldwin,and Hulk Hogan, among others.