Colt McCoy Rumor: Cleveland Browns to Keep McCoy for Now (VIDEO)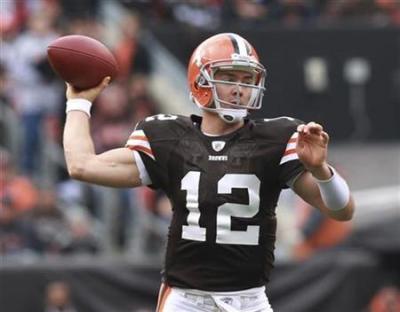 Colt McCoy is the target of more rumors Wednesday with reports claiming that he will now be staying with the Cleveland Browns.
According to an ESPN report McCoy will remain on the Browns' roster for the coming season even though he lost his spot to Brandon Weeden last season.
Previously rumors had circulated that the Browns were hoping to sign Baltimore Ravens quarterback Joe Flacco. However, the Ravens offered Flacco a record contract, making him the highest paid quarterback in the NFL.
That development meant the Browns had to turn their attentions to Alex Smith - but when that interest went cold with him heading to Kansas City, their options looked limited.
And now it seems that with Matt Cassel being grabbed quickly, the Browns have given up their search and will settle for Brandon Weeden and keep McCoy on their roster. However, with Kevin Kolb still available as a back up, McCoy remains well down the list of who might see some action.
Despite the latest rumors surrounding McCoy, some NFL analysts have predicted that McCoy will still be gone sooner than later, with the most likely development being that he will be traded for a late round draft pick.
Here is a video interview with Colt McCoy in 2010: