'Comic Girls' Latest News: Slice of Life Anime Series About Manga Creators Premieres on April 5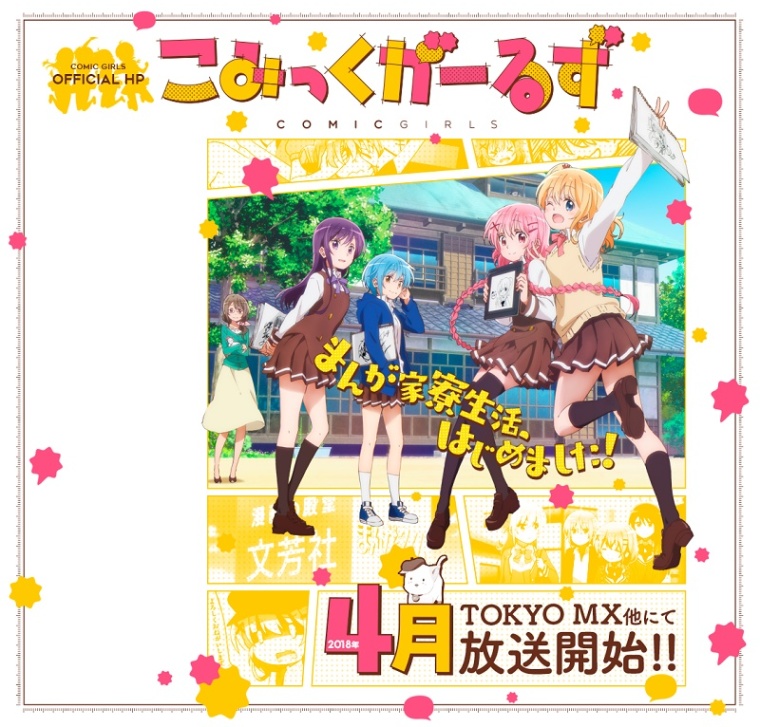 The official broadcast schedules have been set for the upcoming Japanese slice of life anime series "Comic Girls."
The series, which is based on the Japanese four-panel manga written and illustrated by Kaori Hanzawa, tells the story of a 15-year-old high school student and manga creator named Kaoruko Moeta, also known by her pen name Chaos. When she ends up at the bottom of a reader survey, her editor suggests the idea of entering an all-female dormitory for manga creators.
Here, Kaoruko will meet fellow manga creators, whose passions may lie on different genre types, but share the same deep ambition to succeed in their craft. These girls support each other as they work together towards achieving their goal of becoming better creators.
The series will feature the voices of Hikaru Akao as Kaoruko, Kaede Hondo as the shojo manga creator Koyume Koizuka (a.k.a. Koisuru Koyume), Saori Oonishi as the teen romance manga creator Ruki Irokawa (a.k.a. Bakunyū♥Himeko), and Rie Takahashi as the shonen manga creator Tsubasa Katsuki (a.k.a. Wing V).
Additional cast members include Aya Endo as Ririka Hanazono, Minami Tsuda as Mayu Amisawa, Ayaka Nanase as Miharu Nijino, and Reina Ueda as Suzu Fuura.
Japanese anime studio Nexus is animating the series under the direction of Yoshinobu Tokumoto. This will mark the first time that Tokumoto serves as the director of an entire series. Natsuko Takahashi handles the series scripts, while Touko Machida, Michiko Yokote, and Jukki Hanada are in charge of writing the scripts.
Other staff members include Keiko Saito as the character designer, Kenichiro Suehiro as the music composer, and Jin Aketagawa as the sound director.
"Comic Girls" premieres on Thursday, April 5, at 11 p.m. JST on AT-X and at 11:30 p.m. JST on Tokyo MX and BS11. Information on other broadcast schedules and online resources can be found on the series' official site.