Creepy Twilight Doll: Cast Talk About Edward and Bella's Child, Renesmee (VIDEO, PHOTO)
Cast members and others related to the film have been talking about the creepy Twilight doll used during filming to portray Edward and Bella's child, Renesmee, in the last film.
Twilight fans never actually got to see the creepy doll, as Mackenzie Foy's face was projected onto it during the editing process. However, both Nikki and Mackenzie were previously interviewed on The Ellen Show, and they spoke about the behind-the-scenes work involved in filming with the creepy doll.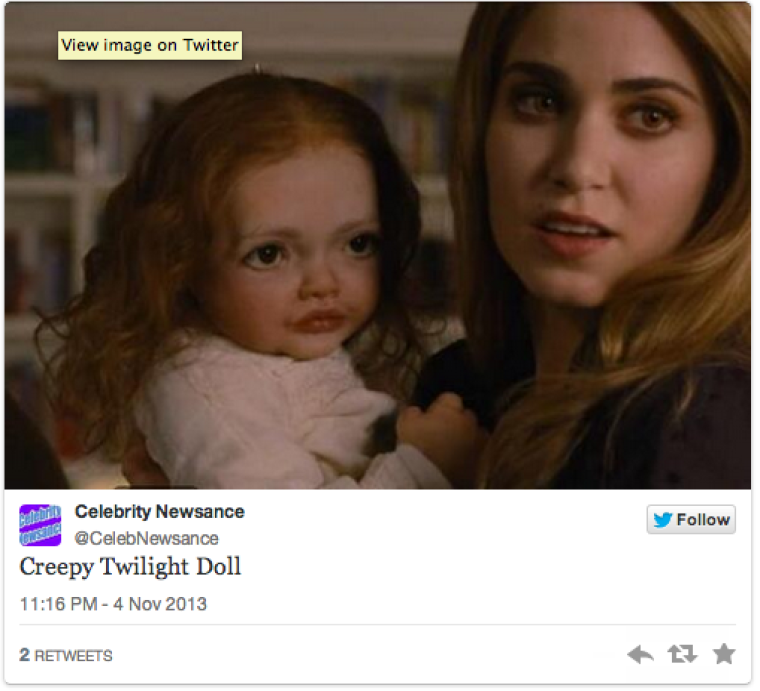 Nikki Reed explained that there were difficulties in holding the heavy doll: "I understand the theory behind it, you know, to have this little creature that does all the hand movements and stuff. I want the whole world to forgive me now before this movie comes out, because I'm holding like a 60-pound mechanical doll. It's really difficult for me."
Meanwhile, Wyck Godfrey, the Twilight producer, also recently spoke about the creepy animatronic doll: "Chuckesmee is one of the most grotesque animatronic babies ever to not be seen on film."
He added, "You're trying to create something that's otherworldly with Renesmee in the movie that has to be preternaturally intelligent yet still look like a baby but actually look a little bit more mature than one would be at one-day-old. So we ended up pulling the thing out on the day and shooting it."
"The second you're holding it up you realize this is never going to work. No fake thing is ever going to do the trick. If you're Bella, you're looking at it going, 'I don't want that thing. Put it back," Godfrey said.