Dancing With the Stars 2013 Winner: Kelly Pickler Wins DWTS Finale (Results, Spoilers, VIDEO)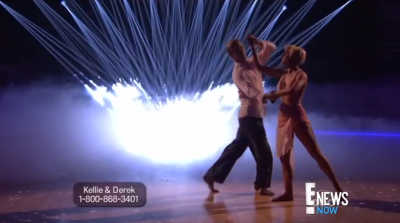 The season finale of "Dancing with the Stars" named Kelly Pickler the winner during Tuesday's results show.
Tensions ran high during the show in what some are calling the most unpredictable season yet.
Kellie Pickler and her partner Derek Hough remained in stiff competition with Zendaya and Val Chmerkovskiy throughout the entire season.
Also among the final four were couples Alexandra Raisman and her partner Mark Ballas as well as NFL star Jacoby Jones who was paired with professional dancer Karina Smirnoff.
Monday's performance show first saw each remaining couple perform a dance selected by the judges.
As usual, Pickler and Hough tied with Zendaya and Chmerkovskiy, earning perfect scores from the judge's table with 30 points.
Olympic gymnast Raisman and Ballas performed the samba for 28 points, while Jones and Smirnoff danced the jive for 27 points.
However it was up to "DWTS" viewers' votes to pick a winner, and the couples continued to compete in the Cha-Char Relay and the Super-Sized Freestyle Dances.
Round two named Zendaya the winner, and in second place on was Pickler, Raisman and then Jones.
Then, during the last round, three couples tied with perfect scores from Zendaya, Pickler, and Raisman.
Meanwhile, "DWTS" first aired in 2005 and has captured America's interest with stiff competition and quality entertainment.
In the past, stars such as Julianne Hough, Kristie Alley, Maria Menounos, Pamela Anderson, and Jennifer Grey have appeared on "DWTS."
Furthermore, other "DWTS" champions include "Bachelorette" star Trista Sutter, Evander Holyfield, Kelly Monaco, Drew Lachey, Harry Hamlin, as well as the show's host, Burke-Charvet. Among many others.