Darlene Love Oscars Speech Turns Into A Gospel Song, Earns Standing Ovation (VIDEO)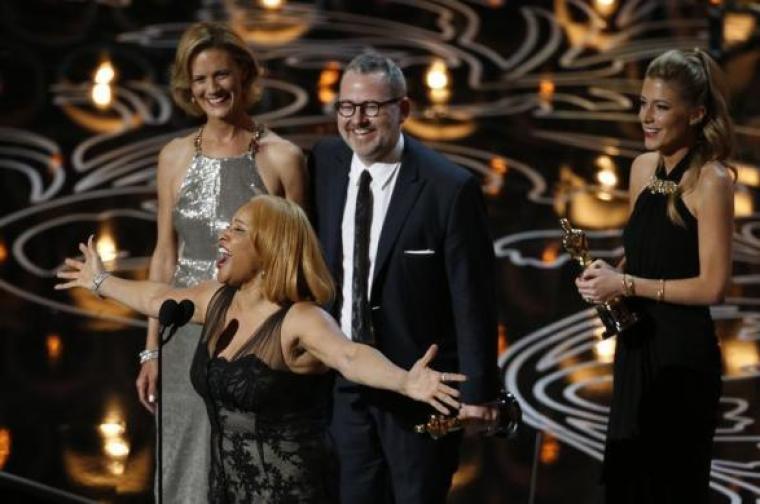 Darlene Love took the stage at Sunday's 86th Annual Academy Awards where she honored God in her acceptance speech and earned a standing ovation after she broke into song.
The singer and actress was featured in Morgan Neville's music documentary "Twenty Feet from Stardom," which earned an Oscar on Sunday. Overwhelmed with happiness, 72-year-old Love broke into the gospel hymn, "His Eye Is On the Sparrow."
"Lord God I praise you," Love began after taking the stage for her acceptance speech. "And I am so happy to be here representing the ladies of 'Twenty Feet From Stardom.'"
With that, Love opened her arms and belted out the lyrics, "I sing because I'm happy." The completely unforeseen performance saw Pharrell Williams smile broadly just before Bill Murray pumped his first and rose from his seat, setting off a chain reaction until the entire audience was on their feet clapping for Love.
The off-the-cuff performance also resonated with the millions of Oscar viewers tuning into the broadcast, and Twitter was ablaze with reactions to Love's acceptance speech, including singer Jordin Sparks.
"Yes Darlene Love you gon head and BURST into song! #Oscars," Sparks wrote.
Twitter user Michael added, "We need more Darlene Love in the world. Where is she?"
Love's career in music began in the choir of her Southern California church, and she went on to gain prominence in the 1960s for the song "He's a Rebel" as well as after working with Phil Spector's celebrated Christmas album. Furthermore, Love has provided backup vocals for legendary singers such as Elvis Presley, Tom Jones, Frank Sinatra, Aretha Franklin and Bruce Springsteen. However, the singer never received the recognition she deserves, as documented in and amended by "Twenty Feet from Stardom."
Love was not the only winner to honor God during the 86th Academy Awards on Sunday. Best Actor winner Matthew McConaughey also cited his faith while accepting his award.
"I want to thank God because that is who I look up to," the star said. "He has graced my life with opportunities that I know were not of my hand or any other human hand. He's shown me that it's a scientific fact that gratitude reciprocates."
Watch McConaughey's full speech here.