Dog's Amazing Last Meal: Owner Treats Boxer Suffering From Cancer, Arthritis (VIDEO, PHOTO)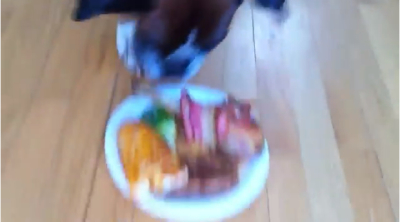 A dog's amazing last meal, prepared for him before he was put down, has touched animal lovers everywhere this week.
One owner was apparently devastated when he heard that his dog was dying and would have to be put down. However, he decided to give him the best send off possible by preparing his a huge meal packed full of treats his "best friend" could enjoy.
The story came to public light after one Reddit user called Nikolaoss posted news of the story and a video of his roommate's boxer, Lennox, onto his account. The video showed the dog enjoying his last meal.
The meal included numerous treats such as bacon, sausage, turkey, cheese bread, and even rice and salad.
Lennox can be seen slowly limping over to the meal before delving into the treat.
The boxer was reportedly suffering from severe cancer as well as arthritis. His owner had done everything he could to treat Lennox's condition, and the dog had already undergone surgery for a tumor in his ear. However, his condition had since worsened and a larger growth had appeared in his left shoulder. The health condition made it difficult and painful for Lennox to move around.
Boxers are more prone to develop cancer than many other types of dogs, according to the American Society for the Prevention of Cruelty to Animals. Oftentimes dogs suffering from cancer are able to be treated through surgery, chemotherapy, radiation and immunotherapy. However, the cost of such procedures can be a lot for some owners, and of course has no guarantee of success. For other owners putting their pet through things like chemotherapy is also very time-consuming, and some opt for palliative care instead to make their pet's life as comfortable as possible until the inevitable.
Nikolaoss wrote along with his video posting, "This post isn't meant to be sad in any way. He lived like an absolute boss all his life! And the meal reflects that!"
Lennox the boxer died shortly after the meal on Jan. 23.
Here is a video of Lennox enjoying his last treat: