'Duck Dynasty' Star Phil Robertson Once Again Stresses That 'God Does Not Make Mistakes' When It Comes to Gender
"Duck Dynasty" star Phil Robertson made it to the news back in 2013 when he commented that homosexuality is sinful and that members of the LGBT community "won't inherit the kingdom of God."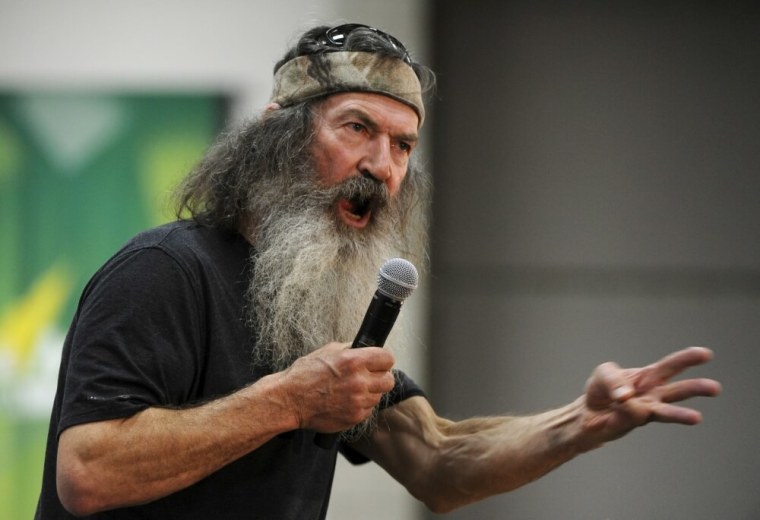 He was lambasted heavily by the media and secular society because of his comments.
On Friday, Robertson reiterated his stance against homosexuality during the Liberty University Convocation, according to PR Web.
"God made male and female," Robertson stressed. "When I am looking at males, hair comes out of their faces. Females, they don't have beards. Males, they have beards. God doesn't make mistakes. This is what a man is supposed to look like."
Robertson knows a lot of people don't appreciate his controversial comments and have left scathing remarks against him on social media. But he does not mind these criticisms because he can't read them anyway.
"I'm 70 now; I have never owned a cell phone or a computer," he said. "So if you are going to bad mouth me after I leave over the Internet or Facebook and all that stuff, trust me, I'm not hearing you."
Earlier, Robertson told Breitbart News Daily SiriusXM host Stephen K. Bannon that America is currently in a "spiritual crisis, no doubt about that." 
Instead of getting a "political" fix, Robertson suggested that America should simply focus on fixing its spiritual problem. "Therefore, we can pray for our country, but the last thing we want to do is sit at home. We have to get rid of this politically correct crap and go back to biblical correctness," he said.
The reality star added that there is no downside to loving God and loving one's neighbor. If Americans only learn to keep two of God's laws, particularly do not murder and do not steal, he believes there would be a marked improvement in Americans' way of life.
"It's two of the top 10. I wonder if we just kept those two, would life be better? What do you think?" he asked.