Fresh Prince Reunion: Video of 'Carlton Dance' With Alfonso Ribeiro, Will and Jaden Smith Goes Viral
Fresh Prince Reunion: Video of 'Carlton Dance' With Alfonso Ribeiro, Will and Jaden Smith Goes Viral
A Fresh Prince reunion has taken place in the U.K. with Will Smith and Alfonso Ribeiro, aka Carlton Banks, getting together to do the famous "Carlton Dance" to the delight of fans across the globe. A video of the performance can be seen below.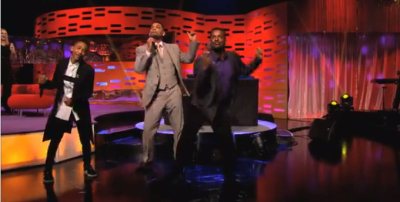 The stars got together for The Graham Norton Show, a popular late night talk show in England.
Will Smith appeared on the show just last year, with fans going crazy when he performed the theme song to the 90s sitcom, The Fresh Prince of Bel Air. A video of that performance also found its way onto YouTube and become an instant viral hit, gaining millions of views.
This year, Smith came back on the show, this time bringing son, Jaden, as well to promote their new film, After Earth.
At one point in the show, Will Smith started a beat for his son to perform a song for the audience, with fans clearly enjoying the performance. However, none of the fans could have anticipated what was going to happen next.
Will Smith then introduced longtime friend DJ Jazzy Jeff, and Will and Jaden then launched into revamped version of the Fresh Prince theme song.
The audience was clearly in party mode at this point, but an even bigger surprise then took place, as Will introduced actor, Alfonso Ribeiro, best known for his part on the show as Carlton Banks.
Tom Jones' It's Not Unusual then starts playing, and Alfonso immediately launches into his iconic "Carlton Dance."
Will and Jaden, as well as host Graham Norton all join in, but Alfonso clearly steals the show, with the audience in raptures at this point.
A video of the Carlton Dance with Alfonso Ribeiro, Will and Jaden Smith, and Graham Norton can be seen below:
Will & Jaden Smith, DJ Jazzy Jeff and Alfonso Ribeiro Rap! - The Graham Norton Show - BBC One