Galaxy S3 Jelly Bean Update Begins Rolling Out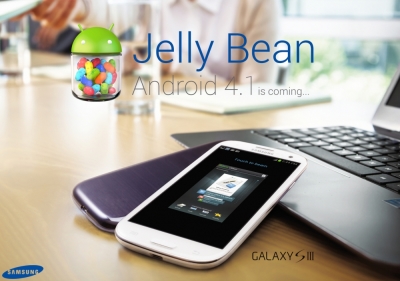 The Galaxy S3 Jelly Bean update began rolling out in Poland earlier today.
This is the first country to start receiving it and the rest of Europe should get it sometime in the near future.
The new firmware can be accessed OTA (over-the-air) or using Samsung KIES software. Samsung recommends that those performing the update use a Wi-Fi connection with at least 50 percent battery power.
Android 4.1, JellyBean on the Galaxy S3 brings with it Project Butter which makes for smoother UI animations, Google Now, offline voice typing support, a better notification area with expandable notifications, and better settings organization.
The update also features two different modes for homescreen behavior, a resizable pop-up play window, S Note which replaces S Memo, a faster web browser, and all around major performance enhancement.
Samsung is already planning the launch of the next-generation model, the Galaxy S4.
New rumors surfaced in the Asian publication the Korea Times earlier this week that point to the handset being unveiled in Feb. 2013 at the next Mobile World Congress in Barcelona, Spain.
The publication also stated that the device should be available in the early part of 2013.
Samsung reportedly made the decision to move forward with the Galaxy S4 shortly after the iPhone 5 was unveiled by Apple earlier this month. The Korea Times said that the company hopes to have its next flagship smartphone out by March of next year.
Rumored specifications for the Galaxy S4 include a 5-inch Super AMOLED 1080p HD display making it Samsung's first full-HD screen. The device might also be called the Galaxy S HD, according to the Korea Times.
It seems like Samsung might be jumping the gun after a pretty successful year with the Galaxy S3 and Galaxy Note. Making the screen larger on the Galaxy S4 might not be the right move since the S3 is already 4.8 inches wide. Apple's new iPhone is only 4 inches, a size the company probably picked for convenience reasons.
Samsung Galaxy S3 Hands-On Video