'GTA Online' Halloween Update: Custom Cars, Shirts and Gear in New DLC (VIDEO)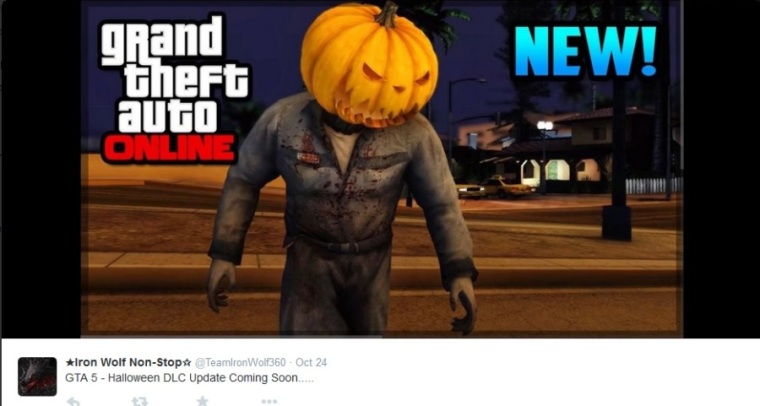 Rockstar Games has released a Halloween update for "GTA Online" that features new cars, t-shirts, and Halloween-themed gear.
Earlier reports on the update, titled "Halloween Surprise," had pointed out fresh gameplay details, which include Halloween vehicles, weapons, costumes, and gear.
A leaked gameplay video had even appeared online featuring the actual vehicles that would be included with the DLC. There are two cars included in the update - the Lurcher and B-Type cars with a dead old man sitting in the backset of the former. The Lurcher is known as the Lurcher Hearse while the B-Type car is known as the Franken Strange.
Based on the video, the B-Type vehicle appears to be an amalgamation of the Roosevelt and the Hot Knife, and will sell for $540,000 in the game, with the Lurcher priced at $666,666.
Players will also get a new Halloween flashlight to help them see in the dark during missions, which can also double as a weapon during melee freemode.
"Halloween Surprise" will likewise have a new "Slasher" adversary mode, where one player wielding a shotgun takes on the role of "Slasher," while the rest of the other players will be the survivors who will be armed only with a flashlight until they can find weapons of their own. In this event, the city will be plunged into darkness and players initially have only their flashlights as their means to survive.
Players will likewise discover new Halloween masks with several variations and 30 new styles of face paint. They can also find 20 "ghoulish" Bobbleheads which they can place on the dashboard of their customizable Lowrider.
According to earlier reports, there will also be colorful Halloween t-shirts available for both "GTA 5" and "GTA Online," which include a white tee splashed with blood, a CD-printed T-shirt with a zombie graphic, a shirt featuring a zombie with its bullet-hole shot head, and one with a zombie hand symbol representing an Easter egg in the game.
"GTA Online's" Halloween update is now available for the PC, PlayStation 4 and Xbox One and will last upto November 16.