Harley Davidson Makeover: Company Introduces 8 New Models
Harley Davidson Makeover: Company Introduces 8 New Models
Harley Davidson debuted a new and improved line of motorcycles this month during a summer dealer meeting in Denver.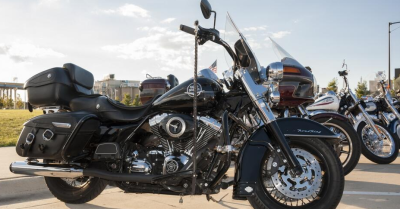 The motorcycle company has announced vast changes to its line in hopes of keeping up with its competitors. With at least six new or improved models, the company said that the new launch would be it's biggest in 110 years. But not a thing has been touched without customer opinion. Part of what has been titled the "Rushmore Project"- each redesign reflects customer suggestions.
Resigned models include the: Road King, Street Glide, Street Glide Special, Electra Glide Ultra Classic, Ultra Limited and Tri Glide Ultra.
"Project Rushmore has been touched by thousands of people, most of them being our customers and our employees," Scott Habegger, Harley-Davidson's director of motorcycle planning, said according to the Wall Street Journal. "The voice of the customer is represented not just up front, but throughout the process," he added.
On Monday the company launched its first marketing campaign geared towards promoting "Project Rushmore." Remnant of the Beatle's 1969 hit, the new "Come Together" campaign will introduce a total of eight new bikes.
"'Come Together' is not merely a song in our spot – it's an anthem for our relationship with our fans," said Mark-Hans Richer, Harley-Davidson Senior Vice President and Chief Marketing Officer. "They're at the heart of everything we do. No one is more emotionally vested in Harley-Davidson than our fans. That's why we turn to them."
The focus of the campaign will be to "reimagine" the classic ideals that have made Harley Davidson a front-runner in the motorcycle industry for so long.
"A song as beloved as 'Come Together' can be incredibly difficult to reimagine, because it's so steeped in culture," said Brian Monaco, SVP Commercial Music Group, SONY/ATV Music Publishing. "But the combination of a brand like Harley-Davidson, a cutting-edge band like The Strypes and the significance of the Project RUSHMORE launch demands an iconic song of this caliber. Bringing these elements together makes a powerful statement."
Here is a related video: