Hiker Found Alive After Six Nights on Mountain: 'God Wasn't Going to Let Me Die' (VIDEO, PHOTO)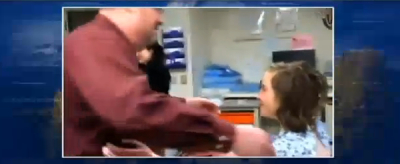 A hiker has been found alive after being lost along in Mt. Hood for six night, stunning rescue workers who had prepared for the worst.
The woman, 23-year-old Mary Owen, told her friends that she was going for a hike on Mt. Hood last Sunday, but was not heard from since.
As each day passed the chances of her being found alive became increasingly slim, however, amazingly she was found just after 10 a.m. on Saturday after being spotted below the mountain's Sandy Glacier.
She was rushed to a Portland hospital in an Army National Guard helicopter to receive treatment and undergo a thorough check up, but she is now reportedly expected to be okay.
When she was rescued, she was hoisted up into the rescue helicopter and was still able to talk to her rescuers, a Clackamas County Sheriff's Office spokesman has described.
According to Fox 12, family members of the woman has reported that she had a leg injury and frostbite, but is expected to make a full recovery.
Her father, Bruce Owen, has said, "I don't know another person who could have survived that ordeal," according to Fox 12.
Mary Owen is a George Fox University student, and was reported missing in Newberg last week. A white 1998 Toyota 4-Runner was found on Thursday - which is the vehicle she had borrowed from a friend to travel to the area to start her hike.
Authorities reported that the vehicle looked like it has been at the location for some time, sparking further concern for the woman.
It appears she had sent an email to friends saying she was going hiking up the mountain, and planned to be back later on Sunday or latest Monday morning.
Her father has told FOX 12 that she survived by building a snow cave and keeping warm under a light-weight poncho. However, due to the lack of food and water,she eventually had hallucinations: "She kept imagining people would come to her and tell her ways to get off the mountain. Like there was some little people who came to her and told her they were going to bring her a horse. Somebody else came and said she could use their dragon but they never came back."
He concluded: "She came to the conclusion that God wasn't going to let her die. So she was just toughing it out one day at a time."
Here is a video report into the incident: