Hope Solo Twitter: Husband the Target of Media Spin? (VIDEO)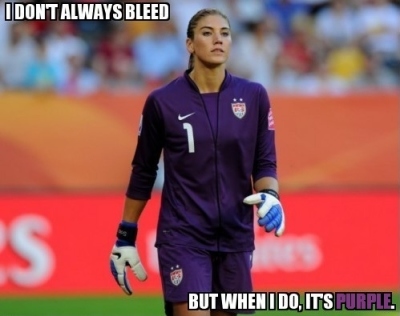 Hope Solo has taken to Twitter to defend her husband against the latest reports over his arrests. In her rebukes she angrily struck out at reports that used the word "again" to describe her husband being arrested, as well as accusing the media of spinning the story.
The news about Jerramy Stevens arrest was reported by numerous outlets with CBS Sports labeling their story, "Former NFL Tight End Jerramy Stevens Arrested Again." It was just one of a number of publications that used the word "again" to describe the story of Stevens arrest.
According to Fox News, the 33 year old was arrested in Florida on Wednesday for an "investigation of violation of his probation."
So although technically it was a new arrest (and he has of course been arrested before), it was connected to the fall-out from the previous arrest. That is the reason why the United States women's soccer player took issue with the headlines being used.
In one Twitter post Solo wrote: "'Jerramy Stevens arrested again in Florida' Get the facts. not "again", still dealing with Seattle fallout. The truth will prevail."
In a following post she added, "I feel bad for all the ignorance in the world. People are so quick to judge. The media spins stories in such dramatic fashion."
Solo then decided to try to show the way, by tweeting, "Continue to show love, and never make judgements.I am blessed w True Love & the beautiful game of soccer.I wish everybody the same happiness."
Stevens has previously been arrested in 2002 for a DUI, in 2007 for extreme DUI and in 2010 for drug charges, according to The Seattle Times.
Here is a video of a past interview with Hope Solo:
E:60 - Hope Solo