Houston Texans vs Indianapolis Colts Live Stream: Watch NFL 2013 Football Online (Start Time, CBS TV Schedule)
The Houston Texans and Indianapolis Colts will face off against one another on Sunday in an all-AFC South match up. It's top against bottom in this clash, and even though the Colts have already clinched the division they will want to finish well ahead of the playoffs. The game will start at 1 p.m. ET and can be watched online through live stream (details below).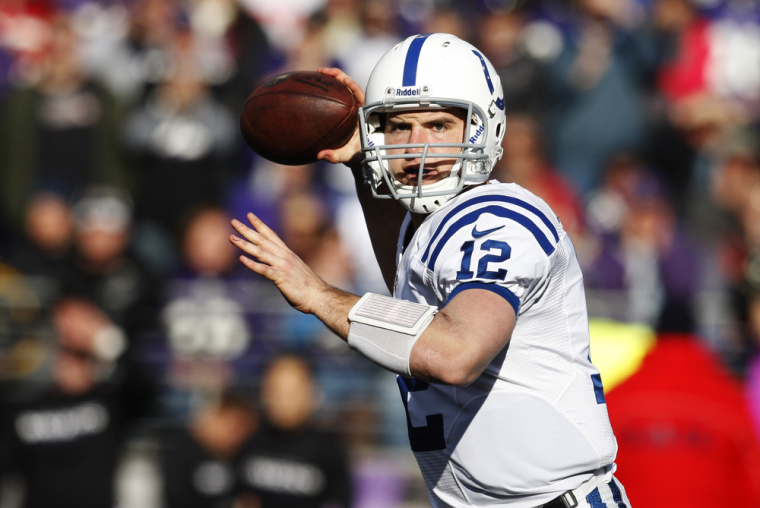 The Colts are 8-5 and well clear at the top of the AFC South. The Titans are far back in second with a 5-8 record, and the Jacksonville Jaguars, who have improved significantly in recent weeks are just 4-9. Meanwhile, the Houston Texans are having a terrible season, and are now being widely recognized as the worst team in the NFL this season. Their 2-11 record is worse than the 3-10 records of the Washington Redskins and Atlanta Falcons, and they will need to pick up a few wins before the end of the season just not to end up dead last in the league this season.
The Colts suffered a bad 28-42 loss to the Cincinnati Bengals last week and they will want to find more consistent form as the playoffs draw closer. Their Week 13 22-14 win over the Tennessee Titans was preceded by an 11-40 loss to the Arizona Cardinals.
Quarterback Andrew Luck is 272 of 464 for 3,119 yards and 19 touchdowns.
Meanwhile, the Texans have now lost 11 straight games in 2013, and interestingly they have also lost 11 games in a row in Indianapolis. Also seeing that the Colts are a perfect 4-0 in the AFC South this season, form and history indicates this one will not end well for the Texans.
After last Thursday's loss to the Jacksonville Jaguars, head coach Gary Kubiak was fired by the Texans. He had reinstalled Matt Schaub to the starting lineup, but since his firing owner Bob McNair has come out to say that Case Keenum will be the starter for the remainder of the season.
Today's game between the Colts and Texans will start at 1 p.m. ET and can be watched on TV on the CBS network or online through live stream by clicking here.
Houston Texans vs Indianapolis Colts WEEK 15 NFL PREVIEW 12/15/13