James Holmes, Colorado Shooting Suspect, Shows Orange Hair, Strange Behavior at Court Appearance
James Eagan Holmes, the Colorado shooting suspect, appeared dazed and emotionless during his first court appearance on Monday morning.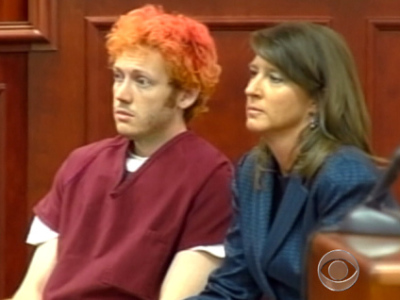 The 24-year-old wore orange and red hair, a prison jumpsuit, white socks with brown flip flops, and sat silently before the judge with shackled feet. Holmes displayed bizarre behavior throughout the appearance, according to CBS.com.
Holmes is accused of opening fire at a Colorado movie theater on Thursday that left 12 people dead and 59 others injured. He appeared to be out of touch and unresponsive during his brief court appearance, often closing his eyes with his head bopping back and forth.
Holmes, who was seated alongside his attorney Tamara Brady, was not arraigned on Monday and was ordered to return to court on July 30 where he will be formally charged before entering a plea.
Colorado's rule 5 advisement law allows prosecutors to continue an investigation for at least 72 hours before formally charging a suspect and Chief Judge William Sylvester granted their request for additional time due to evidence that was provided prior to Holmes' court appearance.
18th Judicial District Attorney Carol Chambers said that her office is considering pursuing the death penalty against Holmes and a decision is expected to be made in consultation with the shooting victims' families.
Holmes, an Aurora resident originally from California, is being held in solitary confinement in a county facility where he has reportedly been since his arrest on Friday morning.
Police say that Holmes entered an Aurora, Colorado, movie theater during a midnight premiere screening of "The Dark Knight Rises" on Friday and set off canisters containing an unknown gas before firing into the packed crowd, killing a dozen movie goers.
He allegedly used a semiautomatic rifle, a shotgun and a pistol during the deadly rampage and investigators are still trying to establish his motives for the deadly shooting.
Some critics believe that Holmes, who has been described as "normal" by neighbors, may suffer from mental health issues and a mental health investigation is reportedly already underway.
If it is established that Holmes suffers from any mental health issues, prosecutors legally cannot seek the death penalty under Colorado law.
"He seemed to be a normal kid, I don't know what triggered it. This makes me very sad," Tom Mai, a retired electrical engineer and Holmes' neighbor, told The Los Angeles Times.
"I saw him as a normal guy, an everyday guy, doing every day things," said Mai's 16-year-old son, Anthony.
Colorado reinstated the death penalty in 1975 and since 1977 the state has only executed one prisoner. Holmes could face a capital punishment sentence depending on what charges are brought against him.
He is expected back in court on July 30.
Shooting Suspect Identified: James Holmes of Aurora Colorado
Obama Offers Comfort After Colorado Shooting