Kansas City Chiefs vs Cleveland Browns Live Stream Free: Watch Online NFL 2013 Football (Start Time, CBS TV Schedule)
Kansas City Chiefs vs Cleveland Browns should be a fantastic game in Week 8 of the NFL 2013 regular season on Sunday, with the Chiefs looking to continue their perfect season so far with another win. The game will start at 1 p.m. ET and can be watched online through free live stream (details below).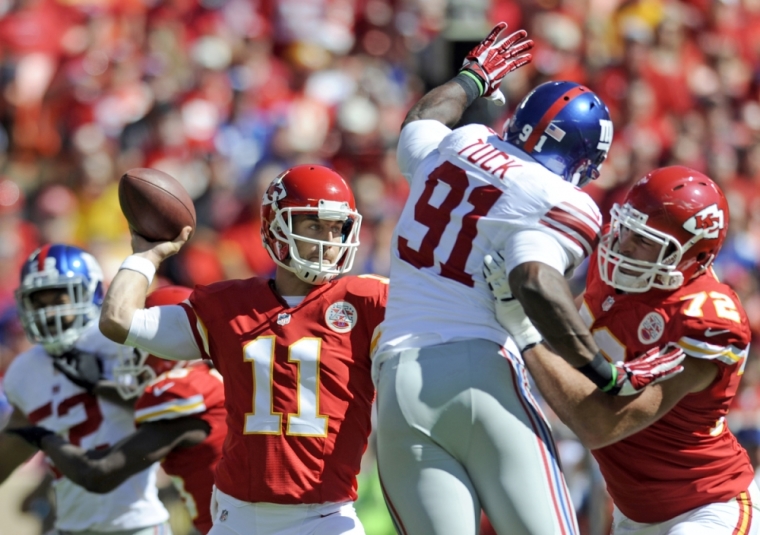 The Chiefs have started the season 7-0 and will be hoping to make that eight straight wins at Arrowhead Stadium on Sunday.
Last week was probably the closest they have come to losing their perfect record, but they managed to hold off the threat from the Houston Texans in a 17-16 victory. The Texans had the slight edge in the third quarter to pull within one point of the Chiefs, but a tense fourth quarter ended scoreless to ensure the Chiefs' winning streak continued.
This will be the last of three straight home games for the Chiefs, and they will go on the road to Buffalo in Week 9 before taking a Bye Week in Week 10.
Alex Smith will be a big player today in deciding whether the Chiefs can continue their amazing start to the season. He is 145 of 250 for 1,570 yards and 7 touchdowns.
He has utilized Jamaal Charles well, giving him 135 carries for 561 yards and six touchdowns.
This will be the 12th game of the series played at Arrowhead, with the Chiefs on top with a 7-3-1 record on their home field.
"We look forward to the challenge of playing the Browns," Chiefs' coach Andy Reid has said ahead of the game. "We know what kind of football team they are. Our guys have had a good week of studying them and getting themselves ready for a good football team, coming in here. Again, we welcome them to Arrowhead Stadium. I know the fans will be out of control, like they always are, which we appreciate."
On Wednesday, Browns head coach Rob Chudzinski named Jason Campbell as the team's starting quarterback for their game against the Chiefs. Pro Bowl LB Tamba Hali immediately gave his respect to that decision, saying: "We know Jason is a good player. He's been in the league for a long time. They have a real good line; we have to stop the run. That's our focus, coming into this game is making sure we can stop the run. We worked on the things we like to get done in the game. As far as Jason, he's going to come out and he's going to do what he does and what the system requires him to do. We don't want to solely focus our attention on him, but we know that we have to affect the quarterback during the game."
The Chiefs now own the top spot in the AFC West outright after the Denver Broncos' first loss last week against the Indianapolis Colts left them 6-1. However, the Chiefs will know they have no room for complacency and will want to maintain their winning streak and put more room between themselves and Peyton Manning's team.
Kansas City Chiefs vs Cleveland Browns will start at 1 p.m. ET and can be watched on TV on the CBS network or online through free live stream by clicking here.
Kansas City Star's Mellinger, Paylor discuss Dwayne Bowe, Cleveland Browns