Kansas City Chiefs vs Washington Redskins Live Stream Free: Watch Online NFL 2013 Football (CBS TV Schedule, Start Time)
The Kansas City Chiefs will play the Washington Redskins on Sunday hoping to snap their three game losing streak. The game will start at 1 p.m. ET and can be watched online through free live stream (details below).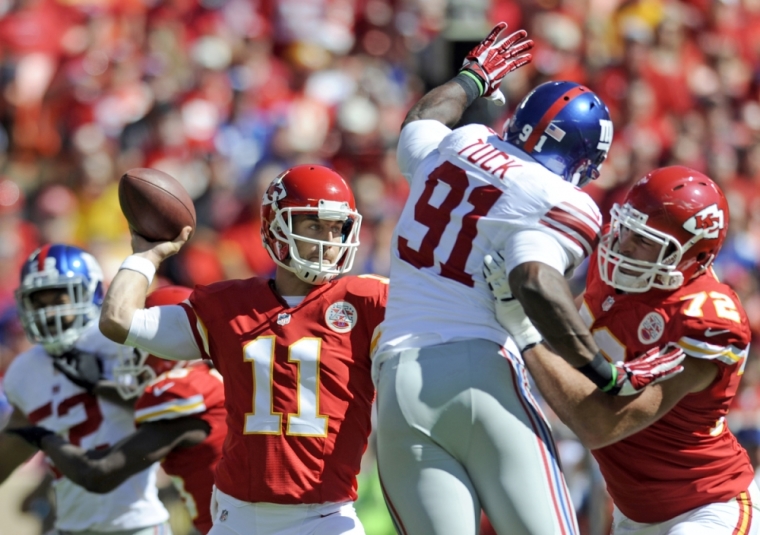 The Chiefs started the season on 9-0 but have since lost three straight games to come into Week 14 with a 9-3 record. Two of those three losses have come against Peyton Manning and the Denver Broncos, so things may not be as bad as they seem.
Unless the Broncos slip up a few more times this season and the Chiefs can win out, it looks like Kansas City will be looking to make the postseason through a Wild Card spot. They will want to get themselves back on track now and get back to winning ways and build towards hitting top form in the playoffs.
Most will see this as a game the Chiefs should easily win. The Redskins are struggling badly this season and come into this game on 3-9.
In recent weeks the Redskins have lost 6-27 to the San Francisco 49ers and 17-24 to the New York Giants.
Robert Griffin III is 262 of 430 for 3,039 yards and 15 touchdowns. However, the Redskins' main offensive success has been on the ground, and they surprisingly rank first in the NFL in rush offense, posting 150.4 yards per game. Alfred Morris has gone 996 yards on 206 carries for an average gain of 4.8 yards and 6 touchdowns.
The Chiefs have three games on the road out of their four games this month, and it could be an important period for them. If they cannot get back to their top form over December then their playoffs run could be short lived. Their 38-41 loss to San Diego surprised many, and they will hope to get their defensive unit back to its best over the coming month.
The Kansas City Chiefs against the Washington Redskins will start at 1 p.m. ET and can be watched on TV on the CBS network or online through free live stream by clicking here.
Kansas City Chiefs vs Washington Redskins WEEK 14 NFL PREVIEW 12/8/13