Kate Hudson Surprise: Actress' Surprise 34th Birthday Party Attracts Celebrities (VIDEO)
Kate Hudson Surprise: Actress' Surprise 34th Birthday Party Attracts Celebrities (VIDEO)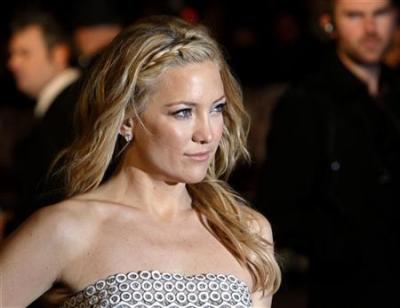 Kate Hudson has had a surprise birthday party to celebrate her 34th, with a star-studded line-up attending the big bash in New York City.
The surprise party in fact took place the night before her birthday, and was organized by fiancé, Matthew Bellamy. Family and friends were rounded up for the big bash, which took place at a friend's house in New York's West Village.
One source has told Us Weekly that Hudson was caught completely by surprise by the party: "Kate was totally surprised. The party started outside, but it was freezing so people moved inside and danced."
Hudson was expecting a small low-key birthday this year, and had previously told reporters earlier this month that she just wanted to "hang with my family."
However, her celebrity friends flocked to the party, including Cameron Diaz, Judd Apatow, and Leslie Mann.
Hudson was described as having a great time dancing and talking away with all her friends.
The actress earlier this month announced that she was pregnant with Bellamy's baby, just months after they first started dating.
Hudson had told Us Weekly: "It was all very old-fashioned and proper and we went on lovely dates, but two months later I was pregnant."
The baby will be Hudson's second child – she currently has a 9-year-old son, Ryder, from a previous marriage to Chris Robinson of the Black Crowes.
Hudson's most recent film is The Reluctant Fundamentalist, and she continues to be able to attract top roles in Hollywood. However, sources have said that the actress is looking to settle down more and focus on just being a good mom.
After her party, Hudson spent her actual birthday watching fiancé, Matthew Bellamy's band, Muse, play a gig at the IZOD Center in East Rutherford, New Jersey.
Here is a video interview with Kate Husdon about her new film The Reluctant Fundamentalist: