Kate Middleton News: Duke and Duchess of Cambridge Visit French Embassy to Express Condolences After Paris Attacks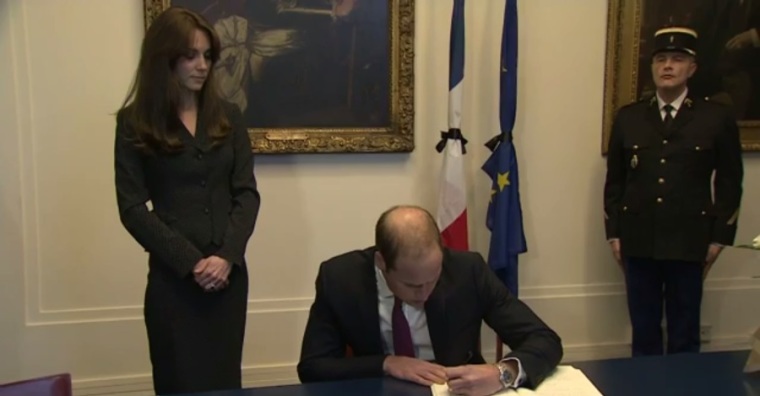 The Duke and Duchess of Cambridge have paid a visit to the French embassy in London Tuesday to pay tribute to the victims of last Friday's Paris attacks.
Kate Middleton and her husband, Prince William, signed the book of condolence and wrote a message to pay their respects to the Paris residents who were killed during the November 13 terrorist attacks in six separate locations in the French City of Lights.
Greeted by French ambassador Sylvie Bermann, the British royal couple were dressed in somber black fitting the occasion, with William writing "To all those who have died and were injured in the heartless attacks in Paris, and to all the people in France…"
William then closed his message with "Nos plus sinceres condoleances" ("Our deep condolences"), followed by his wife who signed her name below his before reading the other messages posted in the book.
Kate further asked the ambassador if she knew anyone who was affected by the attacks. Bermann replied in the negative but talked about the number of memorials for the victims of the suicide bombings and shootings currently taking place in France.
The royal couple also spoke with the French embassy staff in the lobby, further offering their condolences on the terrorist attack, as well as to the defense attaché and the home affairs attaché.
According to a French embassy spokesperson, the Duke and Duchess of Cambridge further shared their best wishes to the embassy employees before viewing the large number of floral arrangements left at the embassy steps in tribute to the victims.
After William and Kate left, a queue of people had formed at the embassy, also waiting to sign the book of condolences.
Earlier on, the book had been stationed at Ambassador Bermann's Kensington Palace Gardens residence, but was moved to the French embassy to accommodate the Duke and Duchess' visit and subsequent signing.