Kate Middleton Wardrobe Costs $550,000, Paid for by Prince Charles (VIDEO)
While Kate Middleton may have given off the appearance that she is down to earth when it comes to her wardrobe, looks can be deceiving.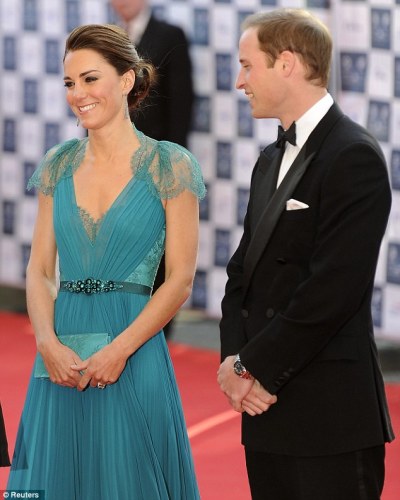 Duchess Kate Middleton may have picked up an item here and there at local brand name stores such as Zara's, which is pretty affordable, but that doesn't mean that the princess-in-training goes cheap and she's just stepped it up a notch.
If Middleton began her reign with a honeymoon dress that she scored at Zara's for $49.99, her budget appears to have gone up a touch since the beginning of the year. The latest report has revealed that the Duchess has spent almost $550,000 on her wardrobe since January.
Since Middleton has been known to recycle an outfit here and there (because for some reason it is shocking for a girl to wear an outfit more than once) and $550,000 would equal enough Zara dresses (more than 11,000) to clothe a small village, it is probably safe to say that the Duchess is over her old threads.
The upgrade is because of the Duchess' new father-in-law, Prince Charles, who has agreed to give the Duchess money for a "work related" wardrobe according to Mail Online.
"Charles is extremely fond of his 'darling daughter-in-law', as he likes to call Kate, and – for the time being at least - does not mind indulging her in the slightest," Mail Online reported.
An expensive wardrobe and a generous father-in-law, doesn't mean that the Duchess can be bought off, however. The site also revealed that Middleton opts to pay full price for all of her garments, as a matter of principle.
"While most celebrity clients can expect a substantial discount in return for their endorsement of a particular product, Kate has instructed her staff to never pay less than the going rate," Mail Online reported. "She also point blank refuses to accept any of the hundreds of free garments sent to her by designers each month, desperate for a piece of what has been dubbed 'The Kate Effect.'"
Kate Middleton Fashion, Teal Dresses, Fab Flash
Kate Middleton Wearing A Stunning Floor-length Cream Gown (VIDEO)