Katherine Webb Engaged? Twitter Photo From Chrissy Teigen Sparks Engagement Rumors (VIDEO)
Katherine Webb Engaged? Twitter Photo From Chrissy Teigen Sparks Engagement Rumors (VIDEO)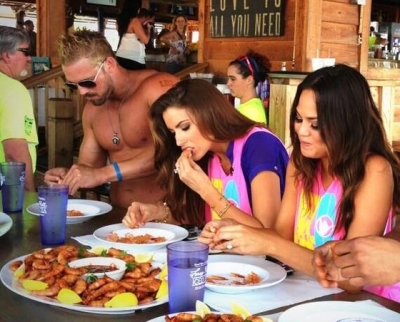 Rumors have been sparked that Katherine Webb is engaged, following a Twitter message from Sports Illustrated model Chrissy Teigen.
Even though nothing has been confirmed by Webb or her boyfriend, AJ McCarron, various rumors have now been spun that the pair are preparing to head down the aisle.
Teigen's tweet included a picture of Webb and Teigen at Hangout Fest in Gulf Shores, Alabama.
The group can be seen enjoying their food, however, upon closer inspection many have pointed out that a ring is being worn by Webb on her engagement ring finger.
The image has sparked many to claim that she is clearly engaged. However, others have suggested the ring means nothing and could be nothing more than a simple gift ring.
College Spun has indeed reported that fans should take reports of an engagement with a grain of salt, and after some investigations they are claiming that the ring on Webb's finger is actually just a gift from McCarren for Valentine's Day in February.
The 23-year-old Miss Alabama USA 2012 appeared in the Sports Illustrated swimsuit issue that hit newsstands on Feb 11.
Exclusive Op-eds from the Presidential Campaigns
Some have compared Webb to reality TV star Kim Kardashian, but Webb herself has indicated the two are very different.
"I think a lot of America appreciated how classy I was, and I got a lot of responses saying I was America's sweetheart and all that kind of stuff. I'm from Alabama and I have morals and I have class. That's my personality," Webb told SI. "A lot of people have said I'm the anti-Kim Kardashian and I'm all right with that."
Although Webb recognized that Kardashian is a success in her own right, she told the publication that she wants to approach her career differently.
"She made herself into who she is and that's fine and all that. But I guess the way I want to go about all this is, I just want to have a positive image for myself," Webb told SI.
"I want girls to be able to look up to me and to say, 'I want to be just like her one day.' That's what I did as Miss Alabama and I loved that."
Here is a video of Katherine Webb's previous interview on the Today show:
Katherine Webb Today Show Interview