Katy Perry Grammys Dress Surprises Fans, Earns Praise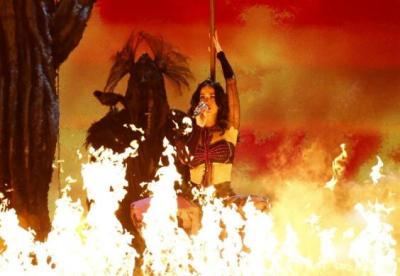 Katy Perry is no stranger to awards shows, but the starlet wowed fans at the 2014 Grammy Awards on Sunday night.
Taking a literal stance on her red carpet fashion, the "Unconditional" singer donned a tulle Valentino Haute Couture gown featuring musical notes on the full skirt before the ceremony got underway in Los Angeles on Jan. 26.
"It's musical for music's biggest night," Perry explained of her dress, according to People.com.
While themed dresses often miss the mark with fashion critics, Perry's fans raved about the unique dress on Twitter.
"I'm completely obsessed with Katy Perry's Valentino Grammy's dress last night," Lisa posted.
Sharanya added, "Katy Perry hit the right note as she turned out in a beautiful fairytale Valentino dress #GRAMMY."
The same dress made its debut just days ago at the Valentino Spring 2014 show in Paris last week, and one Twitter user commented that Perry "doesn't waste any time" when it comes to fashion. However, Perry's stylist Johnny Wujeck reportedly made subtle changes to the gown before the singer donned it on the red carpet. Changes included adding layers of tulle at the top of the gown to ensure full coverage and making the skirt fuller for a more dramatic effect.
Perry went on to wear three entirely different dresses for this year's Grammys, including a Gothic costume for her performance of "Dark Horse." The singer took the stage which appeared to be engulfed in flames to perform her latest hit song when the crowd roared with delight.
Meanwhile, Perry was not the only superstar praised for her fashion choices and performance. Up-and-coming country music singer Kasey Musgraves took the stage in a lamp-shade skirt and boots to perform her song "Follow Your Arrow."
Perry herself commented, tweeting, "I'm so happy @KaseyMusgraves is going on tour with me. I want a pair of my own light up boots!"