Khloe Kardashian 'Excited' About 2014 After Lamar Odom Divorce Saga: 'I Need A Good Fresh Start'
Khloe Kardashian 'Excited' About 2014 After Lamar Odom Divorce Saga: 'I Need A Good Fresh Start'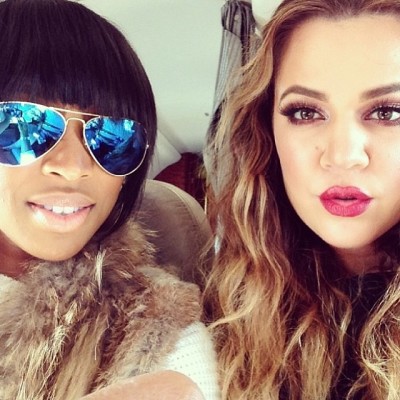 Khloe Kardashian revealed that she is eager to have a fresh start in the New Year, amid her divorce from Lamar Odom.
The reality TV star, 29, filed for divorce from Odom, her husband of four-years, on Dec. 13 due to ongoing marital woes and subsequently she is eager to put 2013 behind her. In July the NBA star, 34, was accused of having extramarital affairs which left Kardashian heart broken.
"I love the new year, new beginnings. I need a good fresh start; I'm excited for this year to be over with," Kardashian told Cosmopolitan UK.
"You only live once so let's make that one time perfect. We can't fix our mistakes and imperfections, so let's have fun. You get what you give out in life," she explained.
In August the couple, who wed in 2009 just one month after meeting, separated in the wake of cheating rumors. Within weeks of the separation Odom found himself at the center of drug addiction reports, which added strain to his marriage.
Kardashian revealed that while her marriage to the father-of-two ultimately failed, she has no regrets.
"I don't regret anything about my life. My life has made me who I am at this moment and I'm very happy with who I am," she said.
"No matter if it's great, disgusting, beautiful or ugly; it happens and it makes you you. Life is about how you process things," she continued.
Earlier this year the E! star debuted her 30-pound weight loss which she attributed to a healthy diet and exercise. Despite the breakdown of her marriage, she remains optimistic about her future.
"I'm feeling good," she said. I've worked very hard on my body so I think now I can sex it up a little bit."
A new report claims Kardashian is set to receive an estimated $7 million as part of her upcoming divorce settlement.
The couple reportedly signed a prenuptial agreement which ensures that the reality TV star will get to keep their $4 million Tarzana marital home and her $1 million engagement ring in addition to a $2 million cash payout. She will be paid $500,000 for every year that she was married.
"Khloe and Lamar have nothing to worry about as far as finances. Their prenup is ironclad," a source told Us magazine.