Kristen Stewart Teen Choice Awards No-Show: Couple Wins 'Best Romance,' But Skips Event (VIDEO)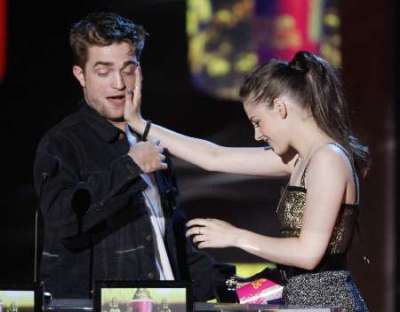 While "Breaking Dawn" may have had a winning night at the Teen Choice Awards, the choice couple was nowhere in sight.
"Breaking Dawn" may have won the title of "Best Romance" on Sunday night at the Teen Choice Awards, but it appears that Robert Pattinson and Kristen Stewart were too busy breaking their romance to accept the award. The film, which was released last November, was named seven times, taking home nearly every award but one. After two consecutive years of winning the "Choice Liplock" award, voters seemed too dismayed by the couple's turbulent off-screen romance to find the on-screen kiss believable.
Writer Stephanie Meyer explained the couple's rise to fame as "tragic" in a previous interview, stating that neither actor was looking to live a high profile life before accepting a role on "Twilight."
"Here's the thing: there are some actors who are looking to be world famous, to be that household name, and although they might discover that there are a lot of negative things involved in that, it's what they want," Meyer said in a Times interview, "But that doesn't apply to Kristen and Rob. That's what makes it kind of ironic and tragic."
While the movies may be responsible for bringing the couple together in the first place, Meyer also suggested that the fame brought on by the films might have also led to their downfall.
"If they had the choice," she added, "I've no idea if they'd even do Twilight again. I just don't know. I think this has all come at a heavy price."
Instead of spending the night at the Teen Choice Awards, Pattinson was spotted at a Hollywood after party with "It Felt Like Love" co-star Michelle Rodriguez. According to one witness at the party who later posted about the event on Twitter, Pattinson appears to have romantic intentions.
"I am at a house party in the Hollywood Hills. Robert Pattinson is flirting in the kitchen," the user said according to Yahoo, although the girl was not named.