'Legends of Tomorrow' Season 4 Updates: Beebo Merchandise Might Be Coming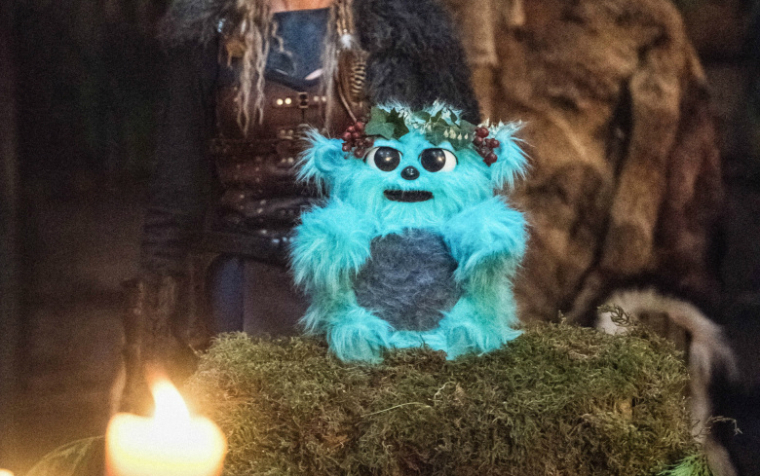 "Legends of Tomorrow" just ended its stellar season with a superhero battle that fans never thought they needed. Apart from joining the team again, viewers now have one other thing they want to see — Beebo merchandise.
Beebo has become the subject of a hilarious running gag this season with a surprising payoff. Making his debut in "Beebo, the God of War," the 80s-inspired stuffed animal toy was deemed as the "blue god" by the Vikings.
After his "Legends of Tomorrow" introduction, Beebo is referenced in the episodes that followed. Time Bureau agent Gary (Adam Tsekhman) is seen wearing Beebo socks. Constantine (Matt Ryan) even mentioned that the toy said things that will "make your toes curl" when he put a spell to make him talk.
While fans did not think much of the mentions other than to elicit laughter, it turns out the random shout-outs weren't so random after all and were actually building to so much more.
Beebo took the form of the champion that the totem bearers of the Waverider crew summoned in the "Legends of Tomorrow" season 3 finale, making for an epic, unexpected, and side-splitting final battle. The ridiculousness stems from Beebo being a stark contrast to Malice's (or is it Mallus?) terrifying form.
The fluffy toy marked the end of his reign of terror with a deadly cuddle, but not before getting a suplex from the ancient time demon and making a "The Matrix" inspired "come at me bro" stance.
Naturally, fans want to get their hands on Beebo merchandise all the more because of this. They want plushies, bobbleheads, or even those socks that Gary flaunted. And it looks like viewers will not make do with memes alone to show their love for the character.
"Legends of Tomorrow" showrunner Phil Klemmer suggested that the merch might actually materialize. In an interview with Collider, he teased that Beebo might actually be released in some way, shape or form.
"Don't be surprised if he shows up on a Comic-Con bag or something like that," Klemmer teased, adding that they made Beebos for their holiday gifts. "I actually briefly had the prop, but then I didn't trust my children with it. I took him away, which was terrible," he went on to say.
For now, nothing is confirmed yet, but fans over at Reddit hope that they will get to take home Beebo in the future. Many of them are surprised The CW has not taken advantage of his popularity yet.
In the same interview, Klemmer recalled about how Beebo became the sensation that he is now in "Legends of Tomorrow." He said that the idea was a result of themselves trying to heal from the events of "Crisis on Earth X."
The crossover ended with the death of a Legend, Martin Stein (Victor Garber), which, in turn, led to Jax (Franz Drameh) leaving the ship too.
"We were all broken from the process and mourning, creatively. I came into the room and could just see the writers were all smiling," Klemmer recalled.
"Someone was like, 'Pitch it to him. Go ahead, pitch it.' They knew it was gonna be a hit because it had Vikings, a young Martin Stein, and an 80s toy," he went on to say.
While the Legends saved the world for the third time, their actions, as usual, lead to complications. This time, Malice is just one of the demons that got out, and Constantine will be joining the crew to help get them all back in "Legends of Tomorrow" season 4.
While Amaya decided to return to her original timeline by the end of the season, the actress who plays her, Maisie Richardson-Sellers, will remain a series regular. Rumor has it that she will play a different character, perhaps a version of Amaya from another timeline.