LG G5 Release Date, Specs Rumors: Snapdragon 820 Smartphone to be Unveiled November?
Speculations have emerged LG's upcoming smartphone, the LG G5, is reportedly getting prepped for its official unveiling next month.
South Korean smartphone manufacturer LG, which recently launched its LG G4 earlier this year, is said to be gearing to introduce its latest flagship, the LG G5, touted to be carrying a Qualcomm Snapdragon 820 chipset in November.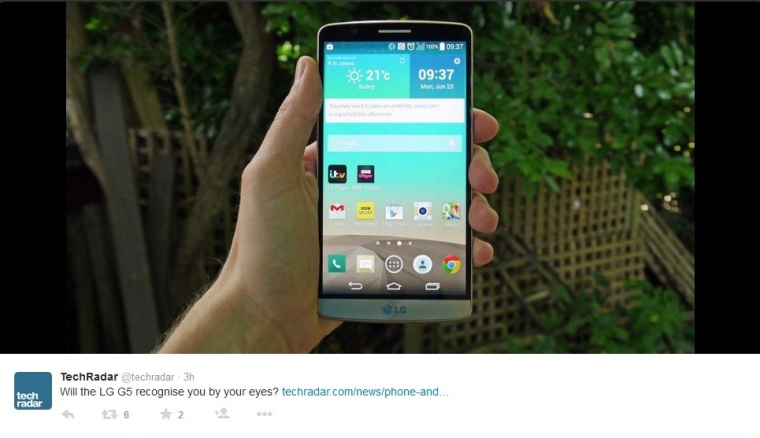 The next-gen handset, which has been teased since September, will be featuring a 20MP rear camera, and will be launched together with its much larger companion, the LG G5 Pro, which boasts a larger display, and will also be powered by a 1.8 GHz hexa-core Snapdragon 820 SoC.
The LG G5 is said to have a 5.6-inch True HD IPS display with a flexible touchscreen, and a 4K resolution that will be glossed over by Corning Gorilla Glass. Under the hood, the handset's CPU will be supported by 3GB of RAM and internal memory options of between 32GB, 64GB and 128GB.
The upcoming smartphone will also feature a 10MP front snapper equipped with an Iris Eye Recognition scanner for added security, and will be juiced by a larger-than-usual 4,000mAh battery.
Apart from its curved surface, the high-end, high-performance LG G5 will sport a slim and flexible design capable of high picture quality HD displays. It will also allow users to record and play 4K videos, as well as run graphics-heavy mobile games.
Supporting GPS, 4G LTE, Wi-Fi, Bluetooth, and NFC, the handset will offer improved Touch ID technology with accompanying sensors for pro-light, gravity, and proximity. Its camera sensors will also be equipped with face detection, as well as smile and multi-gesture detection.
LG has yet to announced the exact date it will launch the phone, but it is rumored to have moved the shipping date to between February to May 2016 from its rumored December release date and is speculated to have a $900 price tag by the time its reaches retailers' shelves.