'Life is Strange' Episode Five Release Date: Gets October 2015 Launch (VIDEO)
Dontnod has just announced it will soon be releasing Episode Five of "Life is Strange" next month.
Square Enix and French developer Dontnod Entertainment are geared to launch "Polarized," the fifth and last episode of their interactive drama video game, "Life is Strange" in October.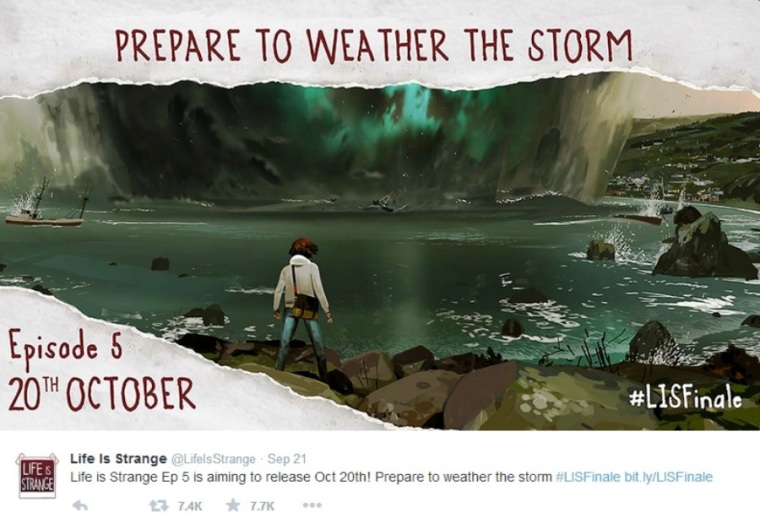 The news appeared on the graphic video game's Twitter account pointing out the fifth episode's release date, and enjoining players to "weather the storm"
The last episode in the five-episode adventure drama title, "Polarized" continues the storyline of "Life is Strange," following the adventures of Maxine Caulfield, a teenager who discovers she has the ability to reverse time.
In "Chrysalis," the first episode released in January, Maxine discovers her power after she saves her former best friend, Chloe, from a bullet. Episode 2, "Out of Time" in March saw Chloe convincing Maxine to experiment with her ability, while Maxine tries to help Kate, a victim of bullying.
In May's Episode 3, "Chaos Theory," Maxine and Chloe explore their Arcadia Bay community and Maxine learns the consequences of abusing her power. "Dark Room," the fourth episode released in July revealed the truth about Rachel's disappearance, with Maxine and Chloe realizing the "dark room's" mystery.
While there has been no details surrounding the plotline of the upcoming Episode 5, "Polarized," Dontnod has previously released a teaser trailer showing gloved hands holding a filled syringe, while a girl's voice is heard pleading in the background.
While "Polarized" has been set for a late October release, Dontnod producer, Luc, mentioned in a Square Enix blog post the "Life is Strange" team is working double time to hit the target date, assuring fans the episode's development is nearing completion.
"Polarized" is expected to arrive for PC, PlayStation 3, PlayStation 4, Xbox One, and Xbox 360 on October 20.