Lightning Strike at Airport Leaves Man Injured, Thousands Delayed in Baltimore (VIDEO)
Lightning Strike at Airport Leaves Man Injured, Thousands Delayed in Baltimore (VIDEO)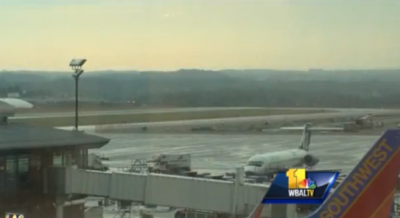 Thousands of passengers were delayed Thursday afternoon at the Baltimore airport and one was left injured after lightning struck the building.
Baltimore-Washington International Thurgood Marshall Airport was forced into a three-hour delay after it was struck by lightning. The bolt hit at around 2:30 p.m., striking a controller as he was flipping a switch to turn on a generator that powers backup runway lights, according to The Baltimore Sun.
The controller was taken to a hospital after suffering numbness to his left arm and leg, John Dunkerly, president of BWI's chapter of the National Air Traffic Controllers Association, told the paper. He has since been released from the hospital and appears to be recovering.
All departures were ground and incoming flights diverted following the incident to prevent further injury.
"The tower is not handling any air traffic operations at this time and the FAA's Potomac Consolidated Terminal radar approach control facility has assumed control of the airspace," the FAA said in a statement on Thursday.
The airport was reopened at around 4:45 p.m., according to CNN. The towers are typically safe and it was unclear what cause lightning to strike.
"We didn't have any idea why it happened," Dunkerly said, adding that he had not heard of such an incident in the past 30 years of the tower's existence. "Usually [the towers] are pretty safe during these storms."
Some passengers who were already on board when the lightning stuck were stuck on the runway for hours. One passenger who was onboard when the incident occurred said that the lightning appeared to sound close.
"We heard a couple loud booms around the airport," Steve Sarkady of Atlanta explained. "It actually felt like it hit the plane."
While many passengers hoped to leave on flights later Thursday, others planned on much longer delays.
"I'll just roll the dice for tomorrow because today was just way too much," Sarkady said.