Macy's Catalog Typo: Jewelry Sold for 3 Percent of Retail Price (VIDEO)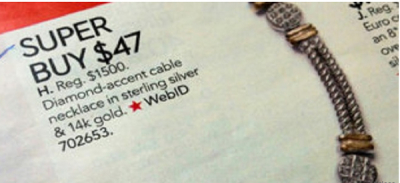 Macy's recent catalog typo has been jumped upon by customers, with the department store offering a $1,500 necklace for just $47, sparking a massive rush by consumers to get their hands on the item before store reps realized their mistake.
The catalog was mailed out just last month and offered customers a "Super Buy" for sterling silver and 14 Kt necklaces.
It is believes that the catalog should have offered the expensive necklace at a large knock down price of $479, but due to a typo the store was offering the necklace for just a fraction of that price at $47.
Customers quickly jumped on the typo, and the news spread by word of mouth and on various social media postings. Rumors of the super cheap deal spread like wildfire and saw customers flock to stores to quickly snap up one of the precious necklaces.
Macy's did not realize the mistake in the catalog until it was too late, making a lot of customers very happy. The Macy's store in Collin Creek Mall was said to be inundated with customers asking for the necklace and it quickly sold out of the item.
According to some reports, people were queuing up for the necklace, and that sparked one man in line to purchase every single necklace the store was selling, disappointing those behind him who were unable to get one. Some of those left disappointed, however, were able to put in an order for the necklace, and were told they would receive their items soon enough. However, one customer has reported that Macy's later realized their big typo and canceled his order.
One customer called Bernard has reported to media that he received a call from a Macy's rep saying: "This item has the wrong price for $47. The correct price is $479 dollars and because of that pricing error, your order has been canceled and I apologize."
So for those who were unable to finalize their purchases and actually get their hands on the necklace in time, they will be left disappointed. However, those who managed to grab the bargain in store and take the necklace away were able to get the necklace at less than 10 percent of the sale price, and at just 3 percent of the regular retail price.
Some have reported that the Macy's catalog copywriter has since been fired, although Macy's has not officially confirmed those reports.
Here is a video report into the incident: