Malkovich Rescue: Actor Helps Save Elderly Man's Life After Horrific Fall (VIDEO)
Malkovich Rescue: Actor Helps Save Elderly Man's Life After Horrific Fall (VIDEO)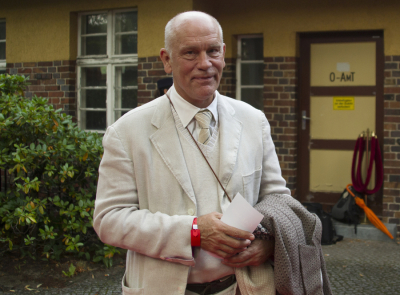 John Malkovich helped rescue an elderly man who tripped and fell in Toronto this weekend.
The Hollywood actor was on the scene quickly to help 77 year old Jim Walpole, who was visiting Toronto when he tripped on a curb and fell heavily, cutting his neck in the fall, according to The Star.
According to reports Wakpole was bleeding "profusely" and could have been in serious trouble had Malkovich not been on hand to help so quickly.
The actor helped stem the big gash in the elderly man's neck until paramedics arrived and took over. When medics arrived they attended to the man and stabilized his condition.
After recovering from the fall Walpole has said, "I'm forever grateful to him, he really helped me out … I never had the opportunity to see him and thank him after the incident. I asked him what his name was and he said it was John."
An eye witness, Chris Mathias, who works in a nearby hotel, described: "I believe (Malkovich) was having a cigarette and witnessed the whole thing happening, he placed his hand and started applying pressure to the man's neck didn't let go until the ambulance arrived."
Walpole ended up receiving 10 stitches in his neck at a local hospital. He was told by medics that he was in fact quite lucky, as if the cut had been an 'eighth of an inch" in the other direction he would have been in "real trouble."
Exclusive Op-eds from the Presidential Campaigns
Meanwhile, Malkovich is currently in Toronto performing in a play called The Giacomo Variations. The twice-nominated Academy Award actor, also recently finished filming his new movie, Red 2.
Here is a video promo of Malkovich in The Giacomo Variations:
John Malkovich in The Giacomo Variations - soon in Montreal and Toronto