March Madness 2014 Printable Bracket, TV Schedule: How to Watch NCAA Men's College Basketball (Start Time, Dates)
The NCAA Tournament, otherwise known affectionately by fans as March Madness 2014, is set to take the country by storm again this year as 68 teams prepare to fight it out to see who will be crowned the nation's best college team.
A printable bracket for the 2014 March Madness Tournament can be found below, and a preview of the next three weeks of the NCAA tournament, including a TV schedule can also be seen.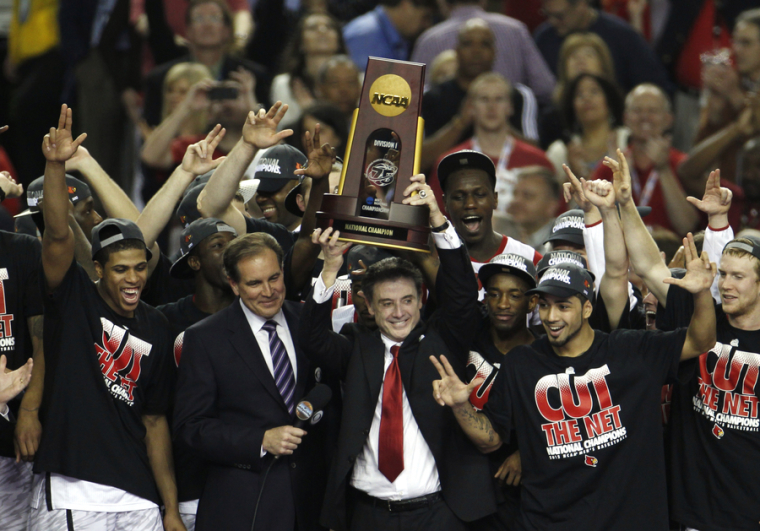 This year the Final Four and the Championship Game will take place in Dallas, Texas at the AT&T Stadium. The No. 1 Seeds for this year's event have been named as Florida, Arizona, Wichita State and Virginia.
Arizona managed to maintain their anticipated No. 1 seeding despite losing to UCLA in the Pac-12 conference title game.
Also Wichita State have managed to gain the No. 1 seed for the first time in their history, and their fans will be hoping it is a sign for them to go all the way this year and win the title.
Virginia will be No. 1 seeds again for the fourth time in their history, but the accolade for the highest ranked No. 1 seed goes to Florida.
Defending champions, Louisville managed to put on a late season surge but it was too little too late to be able to gain a No. 1 seed spot, and they instead will be ranked down at No. 4 in the Midwest region.
Thousands across the nation will be rushing to take part in office pools, however, the vast majority will find it hard to identify the Final Four accurately from the 68 teams in the tournament.
On ESPN.com last season, only 47 out of a whopping 8.15 million brackets that were filled out managed to correctly pick the Final Four. Also according to Yahoo Sports just 28.5 percent of brackets submitted predicted Louisville as champs.
This season as you fill out your bracket remember that across the four regions, teams will be seeded from one through 16.
The First Round this season will start at the UD Arena in Dayton, Ohio, with teams trying to make the final 64 teams.
The Second Round will then begin on Thursday March 20, 2014.
A printable bracket can be downloaded on CBS Sports by clicking here; on Fox Sports by clicking here, and ESPN by clicking here.
The dates of the NCAA 2014 tournament and schedule are as follows:
First Round - March 18-19 ( UD Arena in Dayton, Ohio).
Second and Third Round - March 20-23.
Sweet 16/Elite Eight - March 27-29.
South Regional - March 27 and 29.
West Regional - March 27 and 29.
East Regional - March 28 and 30.
Semifinals - April 5 (On TBS, TNT and TruTV at 6 p.m. and 8.30 p.m. ET).
Championship Game - April 7 (On CBS at 9 p.m. ET from the AT&T stadium in Arlington, Texas).
March Madness will be shown live on TV on various networks including CBS, TBS, TNT and Tru TV.
NCAA Sunday Selection: AU Heads to Milwaukee