Mark Buehrle Pit Bull Banned From Toronto; Family Forced to Split Up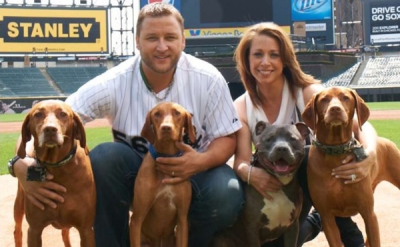 Mark Buehrle's pit bull has been banned from entering Toronto with him this year, meaning the dog was faced with being forced to live apart from his family at least for this coming season until other arrangement can be made.
It has been reported that Buehrle's dog is a mix of bulldog and American Staffordshire Terrier. That means that the dog is officially recognized as of a pit bull lineage - which is banned in Ontario - where Buehrle was traded to in 2012.
The ban means that the family had to decide on whether to stay behind with their pit bull, or leave the pit bull and join Buehrle in Ontario.
Speaking about their family dog, Slater, Buehrle said, "He's an awesome dog. That's what's a shame; just the way he looks is why we have to get separated."
The family has explained that when Buehrle was traded to the Blue Jays they were left with the option to either put Slater in a kennel, leave him with friends, or move to somewhere outside Ontario where the ban was not in effect - however, that would have meant at least a 90 minute journey.
Buehrle has refused to leave the pit bull in a kennel as it would be akin to abandoning him, and numerous friends have apparently offered to keep Slater with them for the time being.
But according to the MLB player, the dog is a part of the family and he should remain close to them.
Even though leaving Slater with friends was considered, ultimately Buehrle's wife, Jamie, has said, "To me, that would be like if we moved somewhere that only allowed boys. I wouldn't leave my daughter behind … I don't want him to bond with someone else. He's our dog. That wasn't really an option."
So that means wife Jamie and the couple's children will stay in Florida with their four dogs, including Slater, while Buehrle lives alone in Toronto.