Miami Dolphins vs San Francisco 49ers Live Stream Free: Watch Online NFL Sunday Football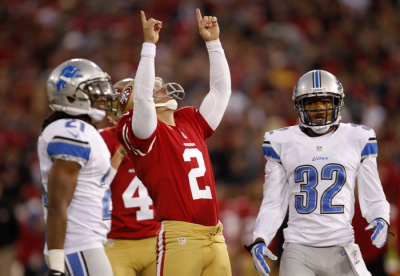 The San Francisco 49ers will clash with the Miami Dolphins on Sunday afternoon and look to secure their spot in this season's playoffs.
The Dolphins are unlikely to make the playoffs now, and anything but a win today will be the end of their postseason hopes. The game is scheduled to start at 4.05 p.m. ET and can be watched online through free live stream (link provided below).
Earlier on in the season many would have thought this would be one of the biggest games in the NFL. The Dolphins were doing well, but over recent weeks have stumbled badly. Miami come into this game with a record of 5-7 and their playoff hopes clinging on by a thread.
The Dolphins are tied with the New York Jets and the Buffalo Bills on 5-7 in the AFC East, and all three are likely to miss out on the postseason after very mixed seasons.
Meanwhile, the 49ers will be in no mood to mix it up with the struggling Dolphins today and will be going all out to slam them. San Francisco will be looking to make a statement to the rest of the NFL following last week's poor 13-16 defeat to the St Louis Rams. Despite that loss the 49ers are still in a commanding position in a wide open NFL this year.
The 49ers come into this game with a record of 8-3-1 and are top of the NFC West division, just ahead of the 7-5 Seattle Seahawks.
All eyes will be on quarterback Colin Kaepernick after his dodgy performance. Many will be expecting him to bounce back this week, although others are waiting to see if his confidence has been knocked, and whether that will affect his game today. If so that could give the Dolphins a fighting chance.
Kaepernick comes into this game having posted 69 completed throws from 106 attempts for 888 yards and three touchdowns so far this season. In commparison, Alex Smith was 152 completes from 217 attempts for 1,731 yards and 13 touchdowns.
Although this match up does not look as exciting as it perhaps did earlier this season, there should still be enough here to capture the imagination.
San Francisco 49ers vs Miami Dolphins will start at 4.05 p.m. ET and can be watched online through free live stream by clicking here.