Moto X+1, Moto X2, Moto 360 Release Date, Rumors, Specs: August 2014 Launch Touted (Leaked Photo)
Motorola has yet to make an official announcement on the release date of the Moto X2 (which has also been called the Moto X+1), and Moto 360, the latest rumors surrounding the devices are that they could be launched sometime in August or September 2014.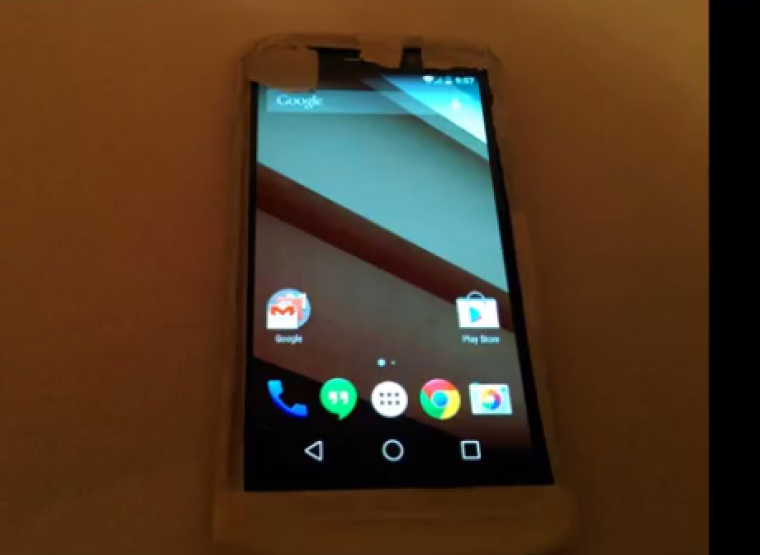 Those dates have been touted as the company unveiled its smartwatch at the Google I/O 2014 conference, and so many expect its Mota X2 should likely follow. Analysts believe it is obvious for the company to try and release the smartwatch along with the Moto X2, as the device works as an accessory to the handset.
Recently, TK Tech news posted a supposed video clip of the Moto X2. The clip featured a device that was covered in wrapped plastic, which concealed its identity.
According to the site, the device shown in the post was a Verizon test version of the Moto X, as it presents bloatware for the carrier.
The video clip also seemed to suggest that the latest handset model from Motorola will come with a 1080p display and further slender bezel.
Previously, a German mobile blog called MobiFlip also claimed to spot the upcoming handset in Motorola's Moto Maker.
However, Motorola removed the listing, but not before the blog managed to capture a screenshot of the model.
Another report has also backed suggestions that Motorola may release the Moto X2 sometime in summer 2014, because the company has indicated this would be the case in a Q&A session at this year's Mobile World Congress.
The company stated that the next version of Moto X will be launched sometime in "late summer."
Exact specs are still unknown, but it's expected to include 2GB of RAM, a Super AMOLED screen, and internal memory of 64GB - with MicroSD functionality.
Another Motorola re-seller has claimed that the phone will feature a 5.2-inch display, featuring 1080 x 1920 pixel resolutions, and have 2GB of RAM and be powered by a Snapdragon 800 2.3 GHz processor. It could also have a 12 MP primary camera.
Reports have said that Motorola plans to expand the availability of its existing smartphone lineup as well as the Moto Maker tool for its customers, especially in Europe and Mexico.
The company is also planning to continue with Android as its primary OS.
Motorola has also confirmed that the original Moto X will be released in India and Australia soon.