NBA MVP Kevin Durant TV Drama 'Swagger' Under Development at Apple
NBA MVP Kevin Durant TV Drama 'Swagger' Under Development at Apple
Kevin Durant's life is getting a TV treatment. The NBA MVP's background is going to become a TV drama for Apple's streaming platform.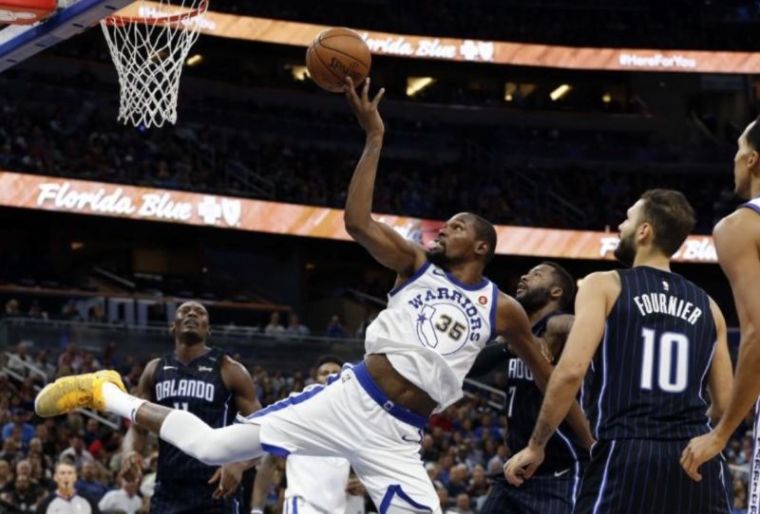 The series, titled "Swagger," will take points from Durant's beginnings as a basketball player, with Reggie Rock Bythewood as head writer. It will cover his younger years with the Amateur Athletic Union (AAU) in Washington D.C. and the show will also touch on other basketball families.
The Golden State Warriors superstar and his production company Thirty Five Media will produce the series with Brian Grazer and his production house Imagine Television. The two met last summer during a Google assembly among VIPs and they brainstormed about the TV show's potential.
Grazer shared what Durant told him about the years he played at the Baltimore recreation center. Even as 12-year-old, Durant already had basketball scouts and brands eyeing him.
His mother, Wanda Durant, became instrumental in his success as an NBA star. Grazer thought that Durant's experiences presented a rich storyline that's ripe for television.
"The fragility of how you were as a kid, and how these kids — 12 to 13 years old — are presented with money, real money, [from athletic apparel brands]," Grazer said. "It's a fascinating universe of possibilities."
The producer hopes that "Swagger" will follow in the footsteps of "Friday Night Lights," the NBC football drama that aired from 2006 to 2011. Rich Kleiman, Durant's business partner at Thirty Five Media, expressed eagerness for the TV show's development. Kleiman said that he and Durant both loved "Friday Night Lights" and have wanted to develop a similar show for basketball.
"Swagger" is just one of several high profile TV shows that the newly established Apple streaming platform is developing to compete with Netflix, Hulu, and Amazon. Apple also acquired the Jennifer Aniston-Reese Witherspoon series, the reboot of "Amazing Stories" under Steven Spielberg, and the comedy show that will star "Saturday Night Live's" Kristen Wiig.