New York Giants vs Atlanta Falcons Live Stream Free: Watch Online NFL Football (1PM ET)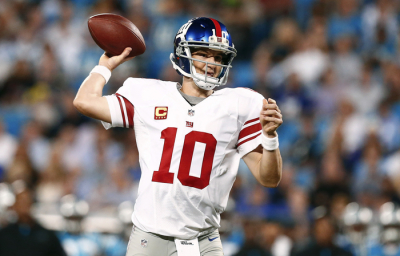 The New York Giants against the Atlanta Falcons is a massive game in Week 15 of the NFL as the Giants face a crucial run in over these next three weeks of the season to claim the divisional title and claim their playoff spot. The game is scheduled to start at 1 p.m. ET and can be watched online through free live stream (link provided below).
The Giants are stuck on a record of 8-5 coming into this game, which is the same record as the Seattle Seahawks and the Chicago Bears in the NFC. For the Giants this is a huge game, as they will need to win to keep their noses in front of the chasing Washington Redskins and Dallas Cowboys who are both just a game back on 7-6 in the NFC East.
A loss today could throw the divisional race wide open in the NFC East, and would make Giants fans increasingly nervous. The Giants' recent slump has seen the Redskins, led by the influential Robert Griffin III, as well as the Cowboys, almost catch them. Just a month or two back the Giants seemed dead certs to stroll to the divisional title, but now things are not looking so certain.
If the Giants lose today, they will face two must win games to see out the season, against the Baltimore Ravens before finally clashing with the Philadelphia Eagles in the final week of the regular season.
The reigning Super Bowl champs are up against the mightily impressive Atlanta Falcons today, who have an 11-2 record in the NFC South. Despite their much better record, many have overlooked the accomplishments of the Falcons this season, despite them taking down team after team each week.
Many are reserving judgment on how good this Falcons team really is until the playoffs. Despite the Giants' troubles and recent inconsistency, they are more widely regarded as a team that can get its head on straight come the pressure of the playoffs. Whether the Falcons can replicate their regular season form in the postseason remains to be seen. But a win here today against the highly regarded Giants would go a long way to showing where the Falcons stand in the Super Bowl dreams.
The Falcons are the only team to have already secured their place in the playoffs in the NFC, and some would think they would take their foot off the gas in the final stretch to ensure they keep all their players fit for the playoffs. However, when the Giants are coming to town there shouldn't be any extra incentive needed for the Falcons to go out and show what they are made of against the reigning Super Bowl champs.
New York Giants vs Atlanta Falcons is scheduled to start at 1 p.m. ET and can be watched online through free live stream by clicking here.