New York Giants vs Philadelphia Eagles Live Stream: Watch Online NFL 2013 Football (Start Time, Fox TV Info)
New York Giants vs Philadelphia Eagles is the big NFC East game on Sunday in a game taking place right in the basement of the NFL standings coming into week 5. These two teams combined have only won one game so far this season, losing seven. Both will be hoping to take advantage of another team in crisis and gain the win they hope will kick-start their season. The game will start at 1 p.m. ET and can be watched online through live stream (details below).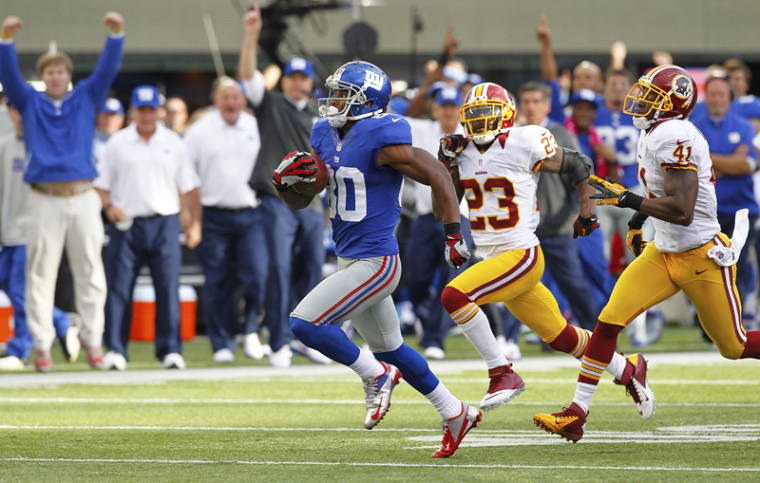 The Giants have hit rock bottom – or they will be hoping they have already hit it – although if they lose big again today it probably will be considered an even lower depth than where they are now.
Their offense has gone missing over the last two weeks, scoring just seven points combined against the Carolina Panthers and the Kansas City Chiefs. The blowout in their 0-38 loss to the Panthers was compounded by their 7-31 loss to the Chiefs last week.
However, their offensive woes are just the start of it, and if their offense has been missing over recent weeks, their defense has been missing all season long. Conceding 36 points against the Dallas Cowboys in week 1, things got worse when they conceded 41 points against the Denver Broncos in week 2. Thirty-eight points in week 3, meant that their 7-31 loss against the Chiefs last week was actually their best defensive display of the season to date!
Put simply the Giants are in crisis across both ends of the field, and it will now take a turnaround of epic proportions to save this season for the New York franchise.
Today, if there is one plus, it's simply that maybe, just maybe, the Eagles are worse than them! Last week the Eagles let through 52 points against the Broncos (even worse than the 41 points the Giants let through against Peyton Manning's men), however, the Eagles did put up more of a fight against the Chiefs in week 3, when they lost 16-26.
Today's match up for most viewers will be simply be to answer the question, "Who are worse this season? The Giants or Eagles?"
New York Giants vs Philadelphia Eagles will start at 1 p.m. ET and can be watched on TV on the Fox network or online through live steam by clicking here.
Philadelphia Eagles vs New York Giants APR. 2011