Newt Gingrich: 'Obama Voted for Killing Babies' as Senator
Newt Gingrich: 'Obama Voted for Killing Babies' as Senator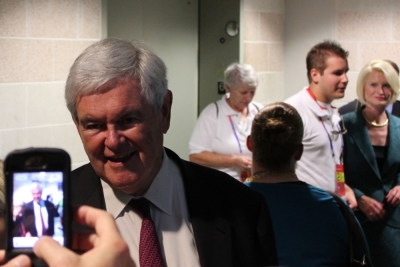 On Sunday, Newt Gingrich blasted President Barack Obama for his stance on abortion, as the issue of life continues to be a talking point in the buildup to the presidential election on Nov. 6.
Gingrich took aim at the president during an appearance on ABC's "This Week" and warned that the first concern of this election for those who believe in protecting all life should be the president's position on abortion.
Gingrch focused his attention on the president's record for voting against banning late-term abortions.
"The radical on abortion is Obama, who as a state senator voted three times in favor of allowing doctors to kill babies in the eighth and ninth month who were born, having survived late-term abortion," Gingrich said, adding that the focus should be on the "Democratic Party platform, which says you should pay with your tax money for late-term abortion."
Abortion has been a hot button issue this election and has been polarized further with several controversial statements made by politicians in recent months.
One of those comments was made by Rep. Todd Akin (R-MO) when, during an interview, he stated that in cases of "legitimate rape the female body has ways to try to shut that whole thing down."
Akin did condemn rape, but said that the punishment should be aimed at the perpetrator, while protecting the innocent life.
"Every candidate I know, every decent American I know condemns rape. OK?" Gingrich said. "So why can't people like (Obama adviser) Stephanie Cutter get over it? We all condemn rape. Now let's talk about whether we also condemn killing babies in the eighth and ninth month."