Nightclub Death: Second Suspect Arrested in California After Kim Pham Beaten to Death
An unnamed second suspect has been arrested on Friday in relation to a California nightclub death. Santa Ana, Calif. Resident Annie "Kim" Pham reportedly died of blunt force trauma after she was beaten up outside The Crosby nightclub in Orange County following an altercation with a group of people. A third suspect is still being sought after by authorities in the region.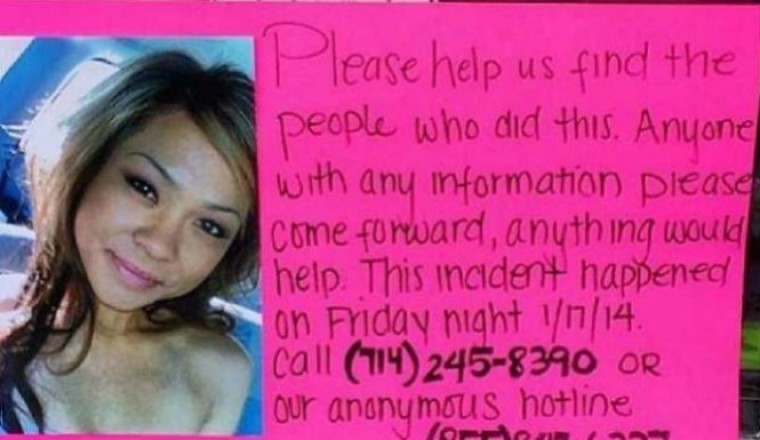 The killing was witnessed by a number of onlookers and some even reportedly recorded the attack on their cell phones. Witnesses have reported to police that the altercation was sparked when Pham accidentally walked in front of a group that was taking a photo together.
That incident reportedly started an argument, and one witness identifying himself as simply "Jason" has told the New York Daily News that Pham was the one who threw the first punch.
Pham was reportedly knocked out with a kick from her attacker, and as she lay unconscious at the scene outside the nightclub, the group fled.
Since the fight, police have been investigating the matter and have arrested two people so far. However, they are still reportedly searching for a third person in the matter.
Authorities are also interested in speaking with two males who they believe were at the scene. Although it was initially thought those two men were involved in the fight, police have since expressed that it is now believed only women were involved in the actual fight.
Vanesa Zavala, 25, of Santa Ana was arrested on Monday by California police. However, she has pleaded not guilty to a murder charge. She is being held on $1 million bail, according to reports. She has a five year old son, and if convicted will face up to 15 years in prison.
A second suspect was arrested on Friday, however, her name has not yet been released by authorities. Police Chief Carlos Rojas has said that the suspect is a 27 year old woman.
Rojas told KNBC-TV, "We are looking for the third person. She was involved in the physical altercation, and we are naming her as a person of interest at this point."
State Senator Lou Correa (D-Santa Ana) has called the attack "brutal and senseless." At a community meeting he said, "The fact that you had a lot of witnesses, that's what's really troublesome. How many people actually stepped in and tried to stop it?"
Orange County Crime Stoppers can be contacted at 1-855-TIP-OCCS or the Santa Ana Police Department at 714-245-8390.