Notre Dame Graduating Students Walk Out on Vice President Mike Pence Commencement Address
A large group of graduating students from Notre Dame University in Indiana walked out of the ceremony soon as U.S. Vice President Mike Pence began his commencement address.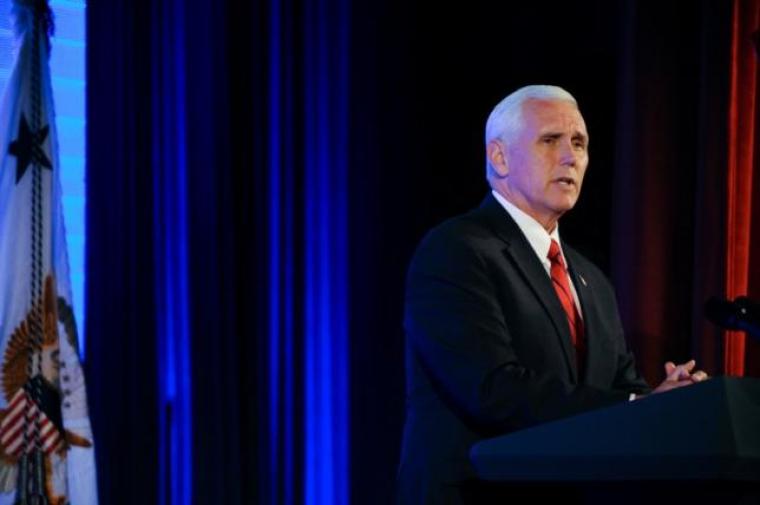 According to The Telegraph, around 150 students stood up and walked out of their own graduation ceremony in protest over the vice president's speech, which lauded the leadership of President Trump.
The students stood and walked out of the hall silently while the vice president continued his speech.
University officials did not make any attempt to stop the students from filing out as they were already made aware of the students' plan prior to the ceremony.
Those who took part in the walk out are members of the University student network, We Stand For ND, reported The Daily Mail.
The group has advocated for the support of "vulnerable members" of the community and has urged students to join in the walkout days before the graduation.
In a statement posted on Twitter, We Stand For ND member Xitlaly Estrada said, "the participation and degree-conferring of VP Pence stand as an endorsement of policies and actions which directly contradict Catholic social teachings and values and target vulnerable members of the University's community."
Some of the students who were interviewed by The New York Times revealed their reason for joining the walkout.
Luis Miranda, master's graduate from Notre Dame, said his support for We Stand For ND stemmed from Pence's role in the Trump's administration and policies that discriminated against the LGBT community and immigrants.
"Of course we welcome and support free speech on campus," he said. "But commencement is not a moment for academic exchange or political dialogue. It's a celebration of all our hard work."
He said some of his family members were hit by the current administration's policies, and he felt the need "to stand up."
In his speech, Pence lauded the university as a "vanguard of freedom of expression and the free exchange of ideas."
"While this institution has maintained an atmosphere of civility and open debate, far too many campuses across America have become characterized by speech codes, safe zones, tone policing, administration-sanctioned political correctness – all of which amounts to nothing less than suppression of the freedom of speech," he said.