Obama Divorce Story Denied by White House, Not the First?
Over a nearly 20 year marriage, the Obamas have been threatened by divorce rumors twice. In the newest set of rumors, a book charges that Michelle Obama threatened divorce in 2000. The White House, however, has denied any such rumors.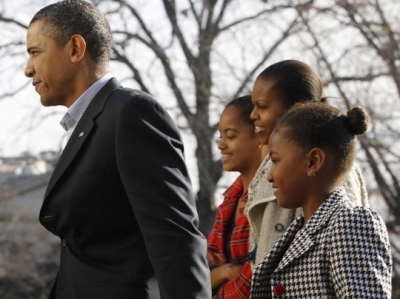 As the presidential elections near, rumors surrounding President Obama have once again resurfaced, some attacking the president's marriage, others his U.S. citizenship completely.
In the most recently biography written about President Obama, Edward Klein claimed that the Obamas were on the verge of divorce before Obama began his campaign for president. Barack and Michelle Obama became married in 1992.
According to Kelin, Michelle Obama threatened divorce when Obama failed to heed her advice about not challenging Democratic congressman incumbent Bobby Rush for a Chicago House of Representatives seat in 2000.
"During the dark days that followed his defeat, he turned to Michelle for comfort. But she was in no mood for sympathy," Klein wrote for his book titled "The Amateur: Barack Obama in the White House." "He had refused to listen to her warnings about taking on" Rush.
Presidential spokesman Eric Schultz, however, has denied that any such rumors are credible, and suggested that Klein's fact-checking has come under question before.
"Ed Klein has a proven history of reckless fabrication in order to sell books. Nobody in their right mind would believe the nonsense in this one," Schultz told The Washington Examiner.
An earlier divorce rumor suggested that Michelle Obama had threatened Obama with divorce if he chose to seek out an additional term as president.
"Michelle collapsed in tears and even threatened to divorce Barack if he seeks a second term as president," a source in the nation's capital told The Enquirer in 2010. "At one point, Michelle was heard yelling, 'I hate you for dragging me through all this … I've had enough!'"
The Oprah Winfrey Show - Barack Obama and Michelle Obama (VIDEO)