Real Madrid vs Levante Live Stream Football Free: Watch Online Spanish La Liga Soccer (3.30PM ET)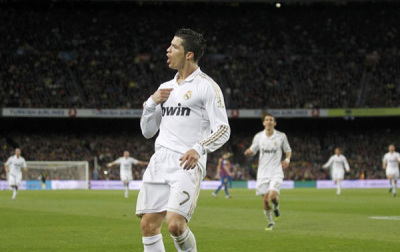 Real Madrid vs Levante takes place Sunday in the Spanish La Liga with Real hoping to maintain their push to catch Barcelona at the top of the table. The game is scheduled to start at 3.30 p.m. ET and can be watched online through free live stream by clicking on the link below.
Levante will try to make the game difficult for Real. They have a solid defense and have claimed two clean sheets in their past two games, which they claimed away from home in consecutive 0-0 draws against Sevilla and FC Twente.
Those two results have meant Levante are still in a good position both domestically in the Spanish La Liga as well as in Europe. Although they are a less known Spanish side they are catching pundits' eyes with increasing regularity these days.
However, whether they will be able to take anything away from this match against Real Madrid is another question. They did rest a number of key players for their midweek game in Europe, but they come up against one of the best sides in the world in Real Madrid.
Levante no doubt will look to get players behind the ball and try to soak up the pressure and wave after wave of Real pressure. They will then hope to make their counter attacks efficient and move the ball up the field quickly to try and get chances on goal.
Real Madrid come into this game following an exciting draw against German champions Borussia Dortmund - a game that ended 2-2. However, that effort meant that Real manager José Mourinho will have to do without Gonzalo Higuaín who has been sidelined for a month.
Real Madrid vs Levante will kick off at 3.30 p.m. ET and can be watched online through free live stream by clicking here.