Rimes Instagrams Nashville Photos: LeAnn Rimes Promotes 2013 New Album 'Spitfire' (VIDEO)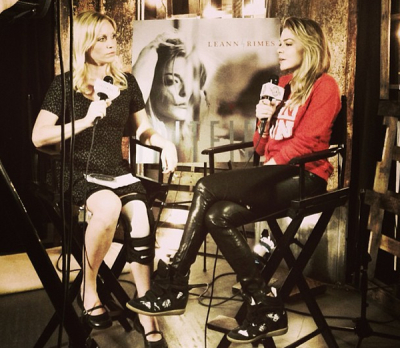 LeAnn Rimes has posted Instagram photos of her recent Nashville visit, as she visited the city to promote her upcoming album.
The singer was in Nashville on Friday to promote her new album, Spitfire, which is scheduled for release on June 4.
To help connect her wider fan base to her promotional activities, Rimes posted a series of photos of her big day in Nashville.
Some of the photos show Rimes talking with fans in Nashville, and others show her conducting interviews, as well as preparing for a promotional show at the Grand Ole Opry.
Focusing on her music and her new album will be a nice relief for the singer from recent publicity about ongoing tensions with her husband's ex-wife, Real Housewife Brandi Glanville.
The pair have always had a bit of a tense relationship, and last week things spilled over again. Rimes reportedly sent Glanville flowers for Mother's Day, in what appeared to be a nice gesture.
Later Glanville posted a messaged to her fans on Twitter saying that she thanked Rimes, despite the fact that the pair do not speak in person when they see each other.
Rimes, however, replied on Twitter: "This was actually the first acknowledgement of my gesture I was made aware of. I didn't see anything else sent to me. It wasn't for the 'thank you.' It was to just simply say Happy Mother's Day."
However, this week Rimes appears to be wanting to focus entirely on her music and her new album release.
The singer will have loved getting back to what she does best, and she has expressed excitement over her new material, saying that it is her most personal album yet.
She has said, "It's definitely a piece of my life through music, an emotional roller coaster of sorts, since that's what I've been on for the last few years. But I think every human emotion, on this record, we tackled."
Rimes added, "There's just a humanity through this that just came out of life for me. Life happened and this album came out of it all."
Here are the Instagram photos of LeAnn Rimes' Nashville visit - click here.
Video: Leann Rimes On ONE ONE 7 TV