Samsung Galaxy S3 to Launch in Garnet Red on AT&T July 15
AT&T announced earlier today that it will launch the Samsung Galaxy S3 in Garnet Red on July 15 online.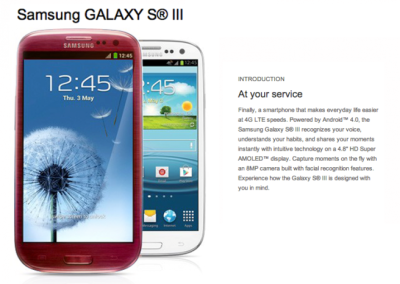 The red variant will make its way to the carrier's retail locations on July 29.
This version will feature the same specifications as the regular AT&T model that includes a 4.8-inch Super AMOLED display, 8-megapixel camera, S Voice, and NFC (near-field-communications), 4G LTE connectivity, and a dual-core Snapdragon S4 chip.
The two models currently available on the carrier are the 16GB white and blue versions, according to AT&T's online store. It offers the device for $199 on a 2-year contract.
AT&T had stated last month that it was going to be the only company to release a red version of the Android handset. However, during its initial launch, no word of the red model had been mentioned.
The Samsung Galaxy S3 is also expected to receive the 4.1, JellyBean update in the fourth quarter of 2012.
The software was unveiled by Google during the company's Google I/O keynote earlier this week, according to YouMobile.org.
The first devices to receive the software will be the Samsung Galaxy Nexus, Nexus S, and the Motorola XOOM Wi-Fi tablet with an over-the-air update coming in the middle of July.
JellyBean brings a number of enhancements to the already impressive Android 4.0 that improve touch responsiveness and the overall smoothness of animations and the UI. The frame rate has also been accelerated to 60 frames per second.
Google displayed demos of the redesigned widgets in the software that scale intelligently around other UI elements along with a new Predictive Keyboard that takes voice commands.
Android 4.1 also features redesigned notifications that Google has now made fully customizable, expandable, and collapsible.
Samsung Galaxy S3 Hands-On Video