Sharks Fined $100,000 for Raffi Torres Suspension Outburst (VIDEO)
Sharks Fined $100,000 for Raffi Torres Suspension Outburst (VIDEO)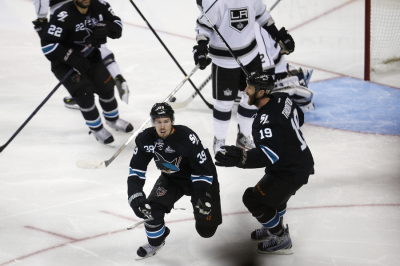 The Sharks have been fined $100,000 for comments made by general manager Doug Wilson.
Wilson had made public comments about the suspension of forward Raffi Torres, which angered the National Hockey League's officials, and the league confirmed on Saturday that the fine would be handed out.
Torres has been suspended for the rest of the Western Conference semifinal series against the LA Kings after a strong hit on Jarret Stoll Game 1. The long suspension was strong, but Torres is considered a repeat offender having already been suspended three previous times in his career.
But the suspension decision angered general manager Doug Wilson, who spoke out and issued a statement saying the team completely disagreed with the decision.
The league has since said that the outburst broke league rules that prohibit formal team statements to the media during the 48-hour period following a disciplinary decision. The NHL has said that is the reason for the $100,000 fine – being made up of a $25,000 automatic fine for the breach, plus an additional $75,000 under Article 6 of the League's Constitution for the making of the "inappropriate" comments.
The San Jose Sharks are currently 1-2 down in their best of seven series against the Los Angeles Kings after the first three games. Their most recent encounter went to overtime after the game finished 1-1 in regulation time. However, the Sharks managed to claim the winning goal to win 2-1 and pull back a game to make the series 1-2.
The Sharks and the Kings will next meet in Game 4 on Tuesday May 21, with the game scheduled to take place at 10 p.m. ET.
Here is a video of the coverage of the Sharks' overtime goal against the Kings in Game 3 of their playoff series: